MHSS turns 7; strengthens commitment toward academic excellence and values formation
Wednesday, February 27, 2013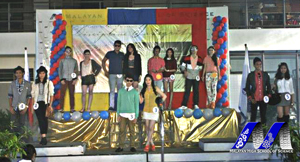 Eighteen cool young personalities armed with charm, wit, and talent impress the crowd as they vied for the coveted title of 2013 Malayan Idol.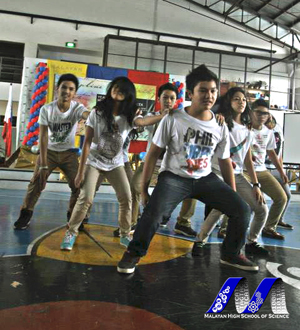 Dance groups from the different year levels wow the school with their hip dance moves hoping to be hailed as this year's Malayan's Best Dance Crew.
Malayan High School of Science (MHSS) marked its seventh year of providing high-quality education with a week-long festivity last month highlighting its commitment to become a global center of excellence in secondary education.

With the theme "Creating a Safe Environment for Academic Excellence and Values Formation," the week of January 14 to 18 was packed with science exhibits, enrichment lectures and seminars, quiz shows, talent competitions, and personality search. Opening the week, principal Dr. Efren B. Mateo called the foundation week both a celebration of MHSS's accomplishments in the past seven years and a strengthening of its commitment to attain its goals.

"This year's celebration sends out the message to the members of the Malayan community that we have been serious in achieving the two most important goals of our school: academic excellence and values formation," began Dr. Mateo. "For this reason, we do not only recruit the best teachers, employ advanced and specialized curriculum, and provide top-notch facilities to nurture our students and facilitate their transformation but also create an environment safe and sound for them to reach their optimum growth and development."

For the principal, with the school's impressive performance in national competency examinations and the countless achievements and recognitions its students have been getting from various academic and sporting competitions, MHSS has taken the necessary big steps toward prominence in local education sector.

"I believe MHSS is gearing in the right direction as far as its vision and mission are concerned. It is carving its name in the annals of secondary education, especially within the metro. Despite its relatively young age, the quality of its product is comparable to if not better than those of the more established schools within the area," he said.

To this president Dr. Reynaldo B. Vea adds that MHSS has always been in sync with its mother school Mapúa Institute of Technology and sister school Malayan Colleges Laguna (MCL) in raising the quality of Philippine education, particularly science and technology education – adopting an education system that equips students with knowledge and skills that meet international standards.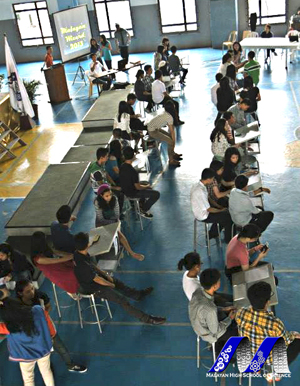 Students from all year levels test their knowledge in the Science, Math, and English Quiz Bee.
"What the three schools have in common is that they have openly embraced the outcomes-based education early on and more zealously as compared to other academic institutions. As a result, they are able to excel in their respective niches and propel themselves to national prominence," he said.

As part of its holistic approach to education, MHSS has also placed itself in the forefront of the creation of safe learning environment for Filipino high school students with the establishment of its Safe School Program.

"A person's overall development always starts in an environment where good relationships are fostered. Such an environment develops uncompromisable values and molds great characters. True to the theme of this year's celebration, we are strengthening our Safe School Program with a series of projects. MHSS is working hard to be a cradle of not just future professionals but positive shapers of the world," Dr. Mateo said."

Founded on January 16, 2006, MHSS was established, complementing Mapúa's expansion of its academic programs in science and technology and other fields, to further contribute to the country's development and sustainability endeavors.

Celebration highlights

MHSS launched its new website on the first day of the celebration. Made faster and hipper with new features and functionality and meatier with more up-to-date content, the new www.malayanscience.edu.ph serves as a more fitting testament to what Malayan education is all about.

Malayans were treated to a fun and exciting learning as the Philippine Science Centrum, the country's first hands-on, interactive science museum, and Mad Science held exhibits on MHSS grounds. The students also had the chance to exhibit their own science experiments, showcasing what they have learned in classes in creative presentations.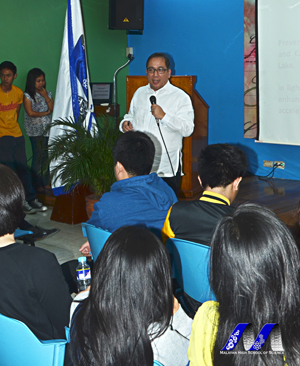 MHSS president Dr. Reynaldo B. Vea discusses the Pasig-Marikina Flood Control System with the third and fourth year students in this year's Science and Technology Lecture Series.
The school's alumni from 2010 to 2012 had their very first Alumni Night where they reconnected with their old friends and teachers. The proceeds of the Alumni Night were donated to the MHSS Student Welfare Fund.

It is during the foundation week that MHSS holds its annual Science and Technology Lecture Series. For this year, the first and second year students learned about Unix, a multitasking, multi-user computer operating system from Ms. Analyn Yumang. Yumang is the Unix Program Coordinator of Mapúa Institute of Technology's Center for Continuing Education and Special Competencies. Meanwhile, the third and fourth year students learned the different aspects of the Pasig–Marikina Flood Control System from MHSS's president Dr. Vea.

Aiming to spark interest in robotics among children, MHSS held its Robotics Workshop for Grade 6 pupils. Participated in by students from St. Lucy Integrated School of Manila, Dr. A. Albert Elementary School, and Colegio de San Juan de Letran, the workshop was conducted by Physics and Robotics professor Dhonny Bacuyag together with Team Sindak, who was recently named Best Rookie in the 2012 Tagisang Robotics.

Capping the week were the most-anticipated Malayan's Best Dance Crew competition and the personality search contest Malayan Idol. Four groups from the different year levels wowed the school with their hip dance moves with the seniors emerging as this year's best dance group.

Eighteen cool young personalities armed with charm, wit, and talent impressed the crowd as they vied for the coveted title of Malayan Idol. Getting the judges' nods were Nicolaus Tolentino and Katrina Angulo.

Overall, the celebration was a success particularly for the students, who really enjoyed and saw the significance of every activity.

"The goal of the Foundation Week is to really make our community realize how far we have come after seven years, to make it intact more than ever while we work hard to fulfill the vision and mission of our school. Our activities are not only fun but also inspire us to learn more and to innovate using the knowledge we have gained. These are the things that I will definitely miss after graduating," shared Kim T. Selorio, Supreme Student Government vice president.

The 7th Foundation Week was organized by MHSS administration, faculty, and the Supreme Student Government.

With reports from Horace Baria and Bianca Villanueva, Whizzy Works writers. Whizzy Works is the official student publication of Malayan High School of Science.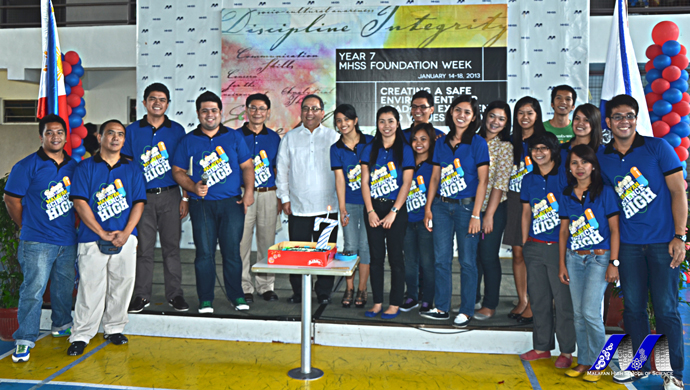 MHSS administrators, faculty, and staff wish for a more successful and fruitful year for the school as they open the 7th Foundation Week celebration.