MHSS launches its anti-bullying program for a safe learning environment
Thursday, August 16, 2012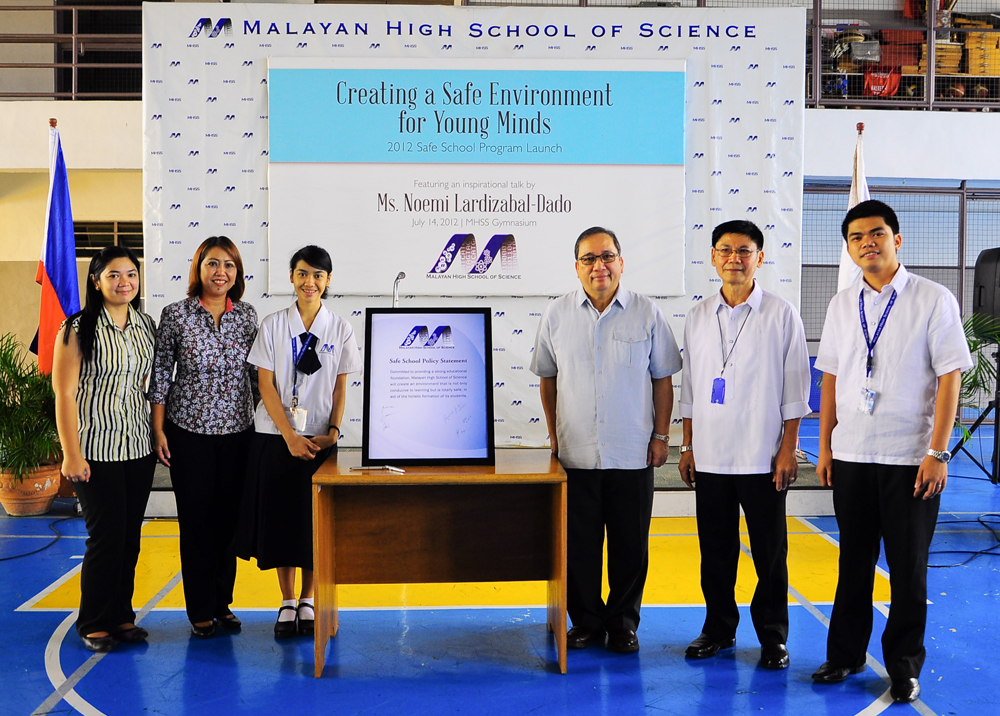 Unveiling and signing of the Safe School Policy Statement of Malayan High School of Science were (L-R) guidance counselor Charlotte Cyndi S. Ramos, Parent Council president Dr. Belen Dofitas, Supreme Student Council president Cara Isabella D. Ignacio, MHSS president Dr. Reynaldo B. Vea, principal Dr. Efren B. Mateo, and administrative officer Ferdinand R. Geronimo during the launch of the Safe School Program last July 14.
Here are some tips from Mom Blogger Noemi Lardizabal-Dado for parents to keep their communication lines with their children open, so that they may always be aware of their children's concerns especially when it comes to bullying.
Set the tone at home. Research shows that adults are often the last to know when their children are bullied or bully others. Engage in frequent conversations about their social lives. A child comfortable talking to their parents about their peers before they're involved in a bullying event will more likely report bullying incidents.


Be a good example of kindness and leadership. One needs to establish household rules about bullying in and out of the household. Creating anti-bullying and anti-victimization habits should start as early as preschool and kindergarten.


Be involved in school activities. Whether your children have been bullied or not, you should know what their school is doing to address bullying and other violence.


A child's proper development starts with the right environment: that is, being in a place that is secure and fosters positive relationships, that encourages him to open up to knowledge and ideas and to challenge assumptions, and that stimulates his creativity.

Having to entrust their children's welfare to schools' care for their academic development, it is important for parents to be assured not only of their kids' effective learning but also of their safety. It is for this reason that Malayan High School of Science (MHSS), through its Parent Council, the association of parents of MHSS students, has established its Safe School Program, which it formally launched last July 14. Enjoining all the members of the MHSS community, the Safe School Program aims for the creation of a safe learning environment for Filipino high school students through a series of projects and activities.

The launch came on the heels of the success of the program's first major activity this year, "A Stand on Safety: No to Bullying!" seminar by parenting expert Maricel Laxa-Pangilinan last March 17. The seminar, which was attended by parents and teachers from grade schools and high schools in Manila, was held to educate people on and to discuss solutions to address the problem of bullying in schools.

Bullying is considered to be one of the most common behavioral and psycho-social issues among the youth today, not only here in the country but worldwide. This problem is proven to hamper the potential and development of kids. Its prevalence had prompted the MHSS Parent Council, led by its then president Tony Eala and then second year representative and public relations officer Dr. Belen Dofitas, to take the steps in making their children's school not only physically but also socially, psychologically, and emotionally safe.

The Parent Council initiated the Safe School Program in July 2010. The members envisioned it to be a collaborative effort of the school administration, teachers, parents, and students. This program aims to develop and maintain a safe and caring school community by providing a comprehensive, schoolwide framework for the prevention of bullying or any form of discrimination or harassment. Since its inception, the program's core group composed of parents, student council members, and the faculty has organized a number of activities beginning with a parenting seminar on bullying prevention with UP clinical psychologist Professor Violeta "Bolet" Bautista.

Dofitas resolved to take action against bullying at MHSS upon learning of her son's experience with bullies in his first year in high school. She got back to her previous researches on bullying and, in a meeting, presented to fellow parents a good way to protect their children from social harms at school.

"During the 2010 Parent Council General Assembly, parents were discussing safety issues. I suggested that a safe school program be initiated by the Parent Council to address the bullying incidents at MHSS and prevent further trauma to our children."

Soon after getting support for the establishment of the program, Dofitas started her work with a baseline survey she conducted on the students, parents, faculty, and administrative staff of MHSS. The survey was to measure the prevalence and incidence of bullying, harassment, and discrimination and to provide guidance for the planning of the Safe School Program.

"I believe this is the first survey of its kind in the Philippines. It was based on the Canadian Public Health Association's survey tool kit with their permission to modify it for our local context."

The survey was approved by Mr. Eala, MHSS president Dr. Reynaldo B. Vea, and principal Dr. Efren B. Mateo and funded by the council. Its results were presented to the entire MHSS community in several occasions.

"President Vea was very supportive and excited about establishing the Safe School Program. All these occurred even before we were aware that a House Bill was being filed to prevent bullying in schools."

In school year 2011-2012, MHSS came up with modules on bullying prevention, which have been taken up during the students' homeroom period.

Being part of the solution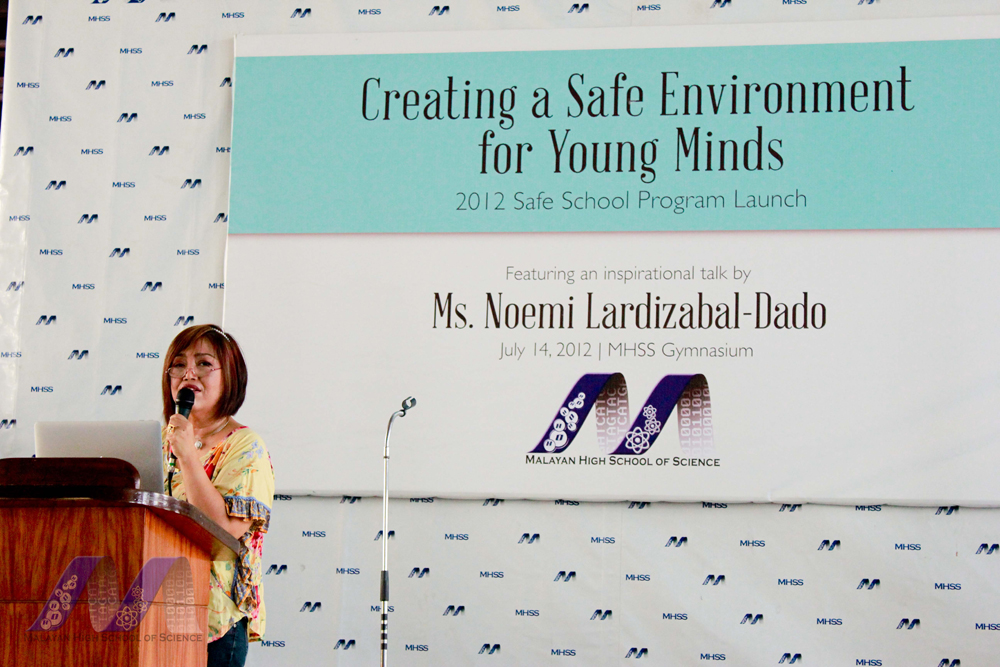 Guest speaker Noemi Lardizabal-Dado talks about how parents and students can be part of the solution to bullying.
Commonly the victims of bullying in and out of school, children must be protected or be able to protect themselves. Empowerment of each of the members of the community against bullying is very crucial, and what better way to start empowering parents and students than to make them well informed of the issue?

It was for this reason that for the launch of its Safe School Program MHSS invited speaker Ms. Noemi Lardizabal-Dado to give the talk "Being Part of the Solution." Dado is a celebrated blogger and new media publisher. She is known as the "Mom Blogger" on Twitter and currently the editor of the citizen media site Blog Watch. She is involved in advocacy work and family recovery groups, promoting children's rights, preservation of our environment, and quality of family life.

According to her, bullying is quite prevalent in schools in the country.

"In a baseline study (Baseline Study on Violence Against Children in Public Schools of the Philippines by the Philippine Women's University's School of Social Work, http://www.scribd.com/doc/44752971/A-Baseline-Study-on-Violence-Against-Children-in-Public-Schools-of-the-Philippines), six out of ten students in high school have experienced violence in school," Dado began. "Children's peers, more than the adults, are the perpetrators of violence in schools."

She explained that there are misconceptions that bullying only involves physical harm. There are actually four types of bullying, namely, physical, verbal, social, and electronic (cyber). Verbal abuse is the most prevalent form of violence experienced by students in all levels, which includes being ridiculed or teased, shouted at, and being cursed or spoken to with harsh words.

Dado further said that the rate of bullying incidents in the Philippines is comparable to that in the United States.

"According to bullyingstatistics.org in the USA, over half, about 56%, of all students have witnessed a bullying crime take place while at school, and there are about 71% of students that report bullying as an on-going problem."

Now that more children have access to the Internet, another form of bullying has emerged – cyberbullying – incidents of which threaten to increase.

"With the advent of the age of information comes its adverse [effect] – the rise of the age of cyber-bullying. The Philippines will have more cyber-bullying activities in the future as more households connect to the Internet and social media," said Dado.

Bullying leaves scars on children that can hinder their development, and this is reason enough why, for Dado, there is a need for parents to address this problem.

"The negative effects of bullying on our children can last a lifetime and curb their potentials. It is important to talk to our children to determine whether bullying or something else is a concern."

She shared that parents need to keep the communication lines with their kids open to be always aware of their children's situation at school. It is also important that they become active partners of the school and get involved in the anti-bullying campaign.

Getting involved

Indeed, bullying is not a problem of only one person. To solve it, various committed stakeholders must be involved.

"Everyone from the parents, educators, the students, and the entire community should stand up and voice that bullying should stop. Preventing and stopping bullying involves a commitment to create a safe environment where children can thrive, socially and academically, without being afraid," asserted Dado.

For Dr. Mateo, the Safe School Program is the perfect opportunity for all the stakeholders of MHSS to come together to create a safe learning environment for its students.

"It (Safe School Program) is a manifestation that we are serious in facing the problem and minimizing, if not totally eradicating, the incidences of bullying in our school. We envision MHSS as one whose environment is safe, friendly, and conducive to learning," he said.

Dr. Dofitas believes that parents who send their children to MHSS are fortunate to be assured of their children's social welfare at school.

"The bullying problem in MHSS was not severe to start with, but it was present and needed to be addressed early on before any serious incident occurred. The students and parents of MHSS are fortunate that the school administration fully supported the establishment of the Safe School Program and has committed to it."

Students have also expressed their support for the Safe School Program, and during the launch, they actively participated in several contests such as the on-the-spot slogan making, logo making, poster making, essay writing, and video making to show what a safe learning environment really is for them. For the students, the Safe School Program has increased their confidence in MHSS.

"The recent launch of the MHSS Safe School Program has given me a whole new layer of confidence and a new level of security in school not only for myself, but also for my lower class men," enthused Kim T. Selorio, a fourth year student and the vice president of the Supreme Student Government. "I do think that this is beneficial not only for me but for everyone studying in MHSS."

Selorio also vowed to help his school implement the program in his own little way.

"As a student leader, I will contribute in the program by helping monitor my batch and setting a good example to everyone."

The Parent Council under the leadership of its current president Mr. Jedel Agron will plan for a repeat survey to quantify the success of the program.