Malayans place fourth in UP Manila's 2012 BioQuiz
Monday, October 22, 2012
By Carl Roma and Bianca Villanueva, Whizzy Works writers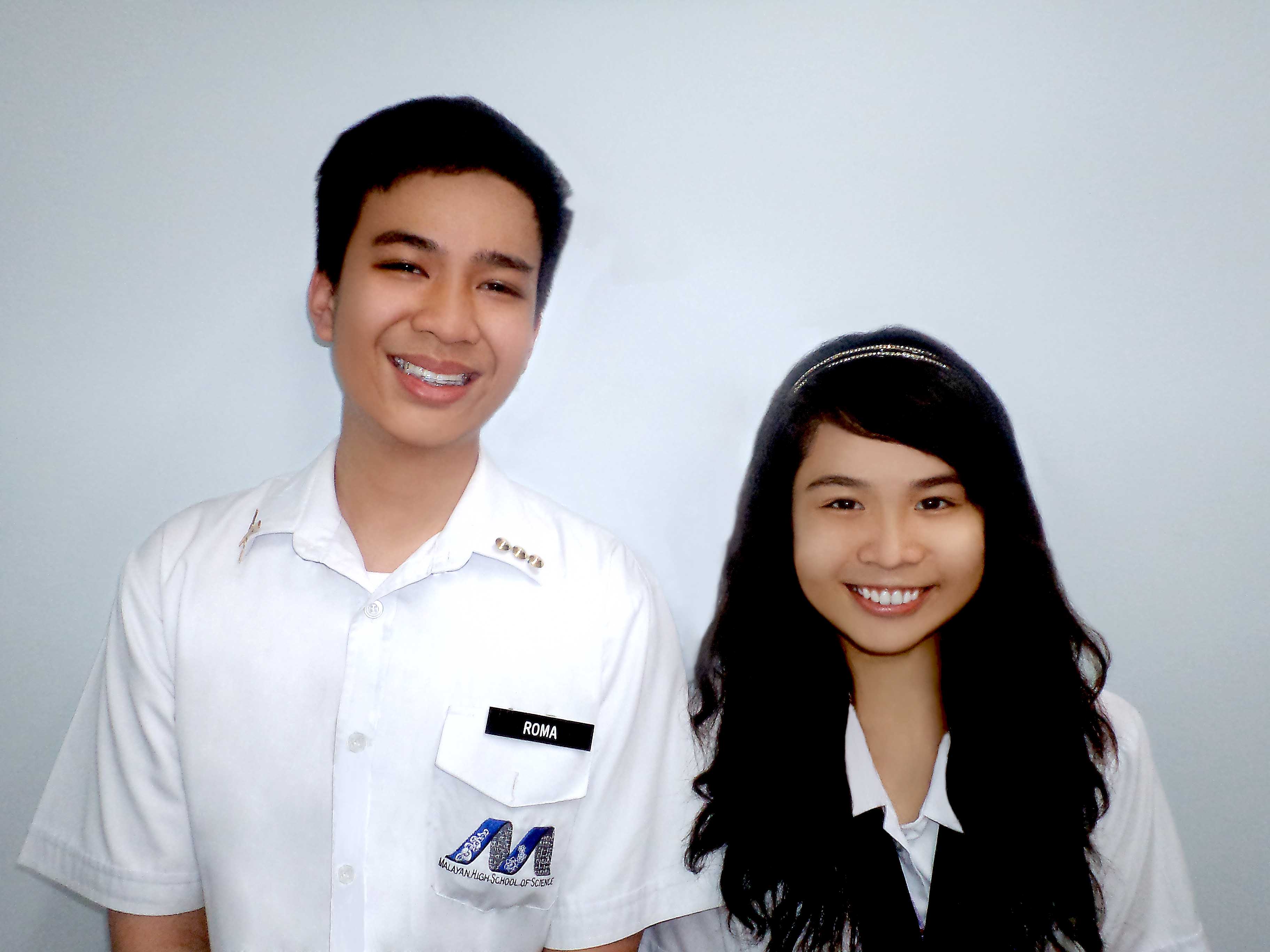 Senior students Carl Roma (left) and Marielle Anne Villanueva represented Malayan High School of Science in the recent 2012 BioQuiz at University of the Philippines – Manila, in which they placed fourth among ten participating private and public high schools in the metro.
Malayan High School of Science (MHSS) clashed with ten other private and public high schools in the metro and landed fourth place at University of the Philippines (UP)-Manila's 2012 BioQuiz last August 15. MHSS's team was composed of senior students Carl Roma and Marielle Anne Villanueva.

The BioQuiz, an academic competition for high school students, is an annual event that is part of the founding anniversary celebration of the university's Department of Biology. Winning as champion in the contest was St. Jude Catholic School followed by St. Stephen Catholic School and Araullo High School in second and third places, respectively.

Apart from their wide understanding of the concepts in Biology, the participants also showcased their awareness of the ecological situation on the planet as well as knowledge on biodiversity conservation and environmental health improvement. This was in line with the event's theme "Apocalypse: The Extinction of Species."

"For the BioQuiz, we chose Carl and May-Anne to represent the school because they have shown exemplary performance in our Biology subject," said teacher Ms. Daphane Clair B. Olivar.

Aware that the competition would be tough, Roma and Villanueva took some serious time to refresh their minds in preparation for the event.

"Knowing that the organizer of the quiz bee was UP Manila, it's a given that they would expect a lot from the contestants," began Villanueva. "In order to do well, I reviewed all of my biology notes since second year."

"We had reviewers provided by Ms. Olivar. It was a mix of questions covering topics mostly from our Biology class in second year," added Roma.

Among the branches of biology in which the pair reviewed were botany, molecular biology, biotechnology, ecology, anatomy, taxonomy, cell biology, and genetics. For them, the vast range of topics made the competition more challenging and thrilling.

"The questions that were asked required specific answers, which made the competition really hard. Although some of them were easy to answer, others were tricky and seemed pretty advanced for everyone in the competition," explained Villanueva.

Despite not ending up as champions, for Roma and Villanueva, BioQuiz had been an opportunity for them to share what they have learned as well as to learn new things in one of their favorite branches of study.

"I believe that even though we didn't win, we still gave our best. We learned and we had fun in the competition, which I think really matters," said Villanueva.

Roma believes that the Malayan education has helped them to become competitive for activities like the BioQuiz. For him, the curriculum of and teaching practices at MHSS are more than sufficient to equip its students with strong educational foundation no matter what field they choose to pursue in the future.

"Biology is a science that I can apply effortlessly in my life. Everything I've learned in Biology was through our lessons that were extensive and that covered the most part of the subject," he said. "The lessons were sufficient not just for basic but in-depth learning."

For Olivar, it is the quality of Malayans to strive and work hard to learn, which makes them intellectually competitive.

"Our students are always ready to compete. They always want to showcase what they have and what they can do. They always think positively and are willing to try new things and strive more to attain their goals," she said.

With Roma and Villanueva's latest accomplishment, the entire MHSS community stands proud as well as hopes for more and greater achievements in the future.


***
Whizzy Works is the official student publication of Malayan High School of Science (MHSS). It covers and documents all the important events MHSS is involved in on and off campus.