52 Academic achievers recognized at MHSS's first card-giving day of SY 2012-2013
Thursday, September 6, 2012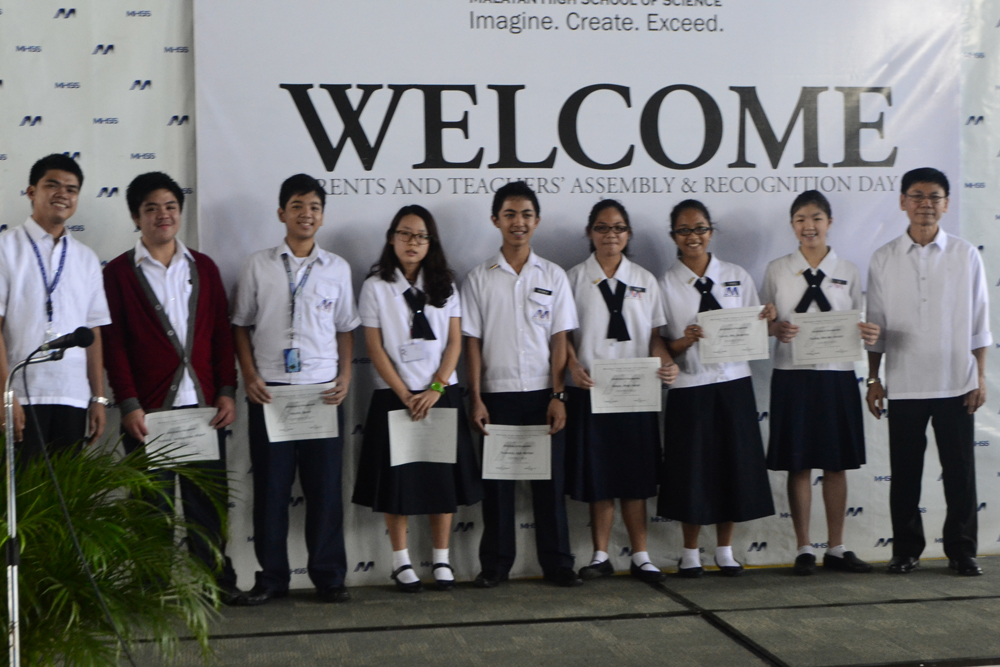 The third year honor students with MHSS administrative officer and registrar Ferdinand Geronimo (far left) and principal Dr. Efren B. Mateo (far right).
More than 50 students of Malayan High School of Science (MHSS) were recognized by the school for their outstanding academic performance in the first quarter of School Year 2012–2013 during the first card-giving day held last August 25.

In his opening remarks, MHSS principal Dr. Efren B. Mateo stressed that such achievement of their students was the fruit of the collaboration of MHSS's stakeholders. As the number of academic awardees has significantly increased, the principal could only commend the entire MHSS community for its efforts for their students to achieve academic excellence.

"Compared to last school year, the number of academic awardees during the first quarter indeed increased especially among the fourth year students," said Dr. Mateo. "This is an indication that the students are responding positively to the academic excursions brought up by their teachers."

He continued: "To ensure the effectiveness of every teaching-learning experience, teachers should be familiar with the varied learning styles of the students and employ the appropriate teaching strategies that would bring out the best in the learners."

For the principal, it greatly helps to also motivate the students to work harder and better to succeed in everything they do.

"Every card-giving, I challenge the students to make their parents and teachers proud through their academic performance, which can only happen if they stay focused on their studies."

During the event, MHSS, led by Dr. Mateo and administrative officer and registrar Ferdinand R. Geronimo, awarded certificates of recognition to the top five students of every year level. Certificates were also awarded to students who obtained a general weighted average of at least 90.

Dr. Mateo also took the opportunity to present to the parents about the latest achievement of the school in the BioQuiz held at UP-Manila last August 15. The team of Carl Roma and Marielle Villanueva, both fouth year students of section Alanine, landed fourth place among ten high schools in Metro Manila.

For the closing remarks, Engr. Jedel Agron, the new president of the MHSS Parents Council, congratulated the awardees and challenged everyone to strive harder in their studies. He reminded the students that while it is important to work hard to excel academically, they should not forget to also work hard to develop their values, particularly the school's core values of discipline, excellence, commitment, integrity, and responsibility.

The following are the academic awardees for the first quarter of S.Y. 2012–2013.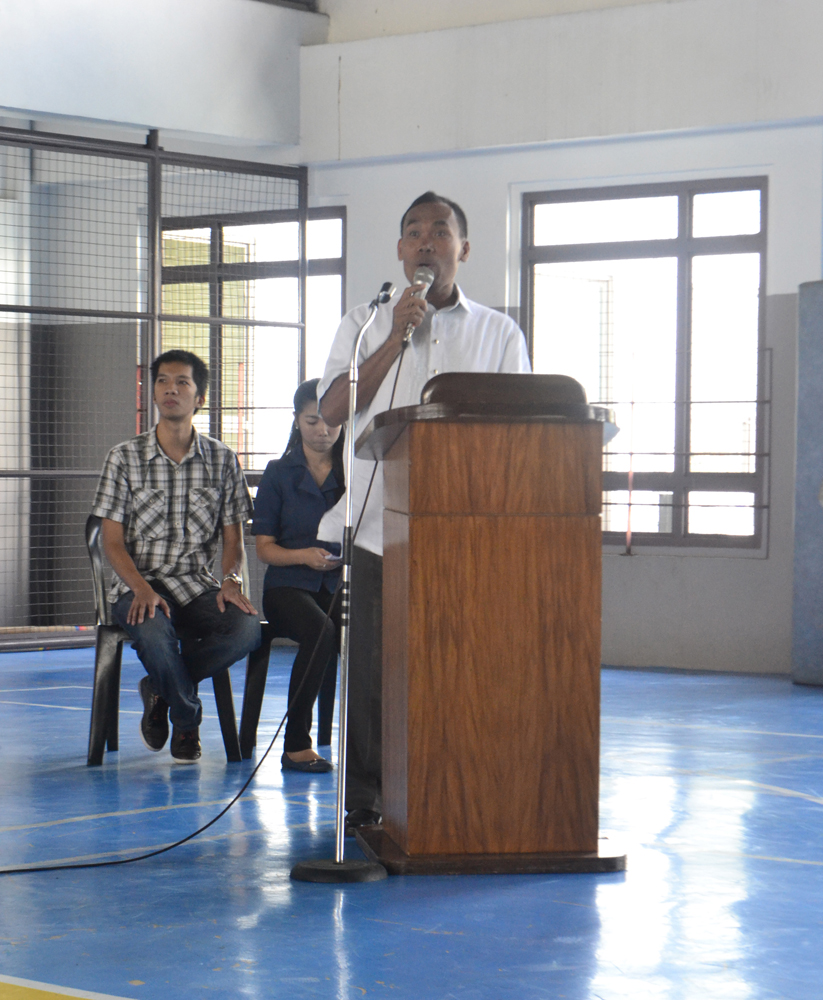 Engr. Jedel Agron, the new president of the MHSS Parents Council, giving the closing remarks. In the background are teachers Dhonny Bacuyag and Rovielyn Despolo, masters of ceremony.
First Year

Top Five

1 - Jin Ho Kwak
2 - Luisa Gilda Zuniga
3 - Joshua Paul Gaces
4 - Jacklyn Kyra Agnes
Leila Eunice Clemente
5 - Mayniel Gorospe

With Distinction

Pamela Joyce Teng
Vianne Beltran
Daniel Fabellon
Lucas Francis Cruz
Zaniel Kekenuza
Gracelle Joy Reyes

Second Year

Top Five

1 - Snehita Polishetty
2 - Horace Baria
3 - Jared Gabriel Tayco
4 - Carl Belmonte
5 - Ysabelle Shivers

With Distinction

Amelito Andaya
Aemariez Legaspi

Third Year

Top Five

1 - Marian Jessica Quing
2 - Ma. Angelica Torres
3 - Nina Isabel Duque
4 - Kyla Fazonela
5 - Hyun A Kim

With Distinction

Renzt Racela
Gabrielle Simeon
Carlitos Buendia

Fourth Year

Top Five

1 - Carl Adrian Roma
2 - Karen Joy Dy
3 - Francesca Magno
4 - Irene Rose Racelis
5 - Cara Isabela Ignacio

With Distinction

Melissa Quing
Marielle Villanueva
Jenni Anne Wee
Eun Jin Kim
Alberto Ma. Ignacio
Stephen Pasol
Ariana Bacquial
Jan David Nicdao
Alyssa Marie Joson
Bianca Villanueva
Kenny Jade Estores
Nichole Liboon
Kyla Dawn Mina
Joshua Nitura
Fay Margarett Fadul
Darren Obligar
Maxine Mendoza
Kim Selorio
Sean Trinidad
Katrina Angulo
Juilian Bautista