Malayan High School of Science students sit down with MVP for their 'Dream Interview'
Friday, August 24, 2012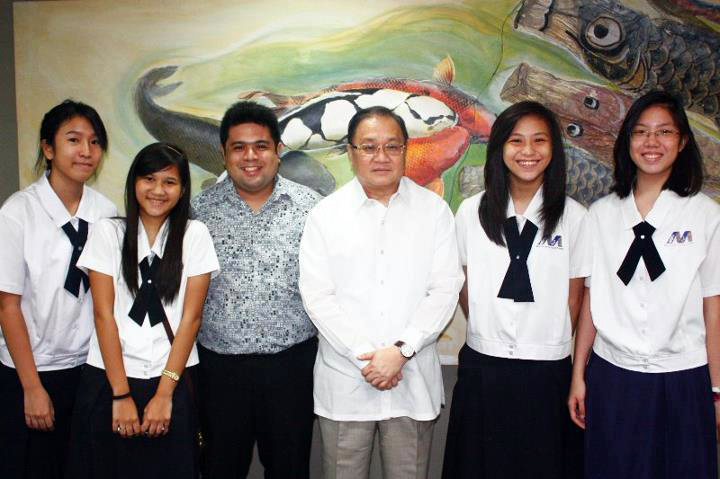 Students from Malayan High School of Science (MHSS) and their coach pose for a photo with CEO Manuel V. Pangilinan, one of the country's top businessmen. In the photo are (L-R) Allyssa Jan Marie M. Joson, Bianca Grace L. Villanueva, team coach and MHSS teacher Jan Erwin O. Macam, Pangilinan, Bianca Marie N. Arreola and Melissa Julianne L. Quing.
Much has been written about businessman Manuel V. Pangilinan, his exploits and acquisitions. His foresight, decisiveness and big decisions have been lauded and admired in and out of the business community. But one is still compelled to ask – who is the man, really, behind all those successes?

Senior students Bianca Grace L. Villanueva, Allysa Jan Marie M. Joson, Bianca Marie N. Arreola and Melissa Julianne L. Quing from Malayan High School of Science (MHSS) recently sat down with Pangilinan, one of the country's most respected businessmen, and they revealed that there is more to him than meets the eye.

The group was one of the five student teams to have made it to the finals of The Philippine Daily Inquirer's "Education My Dream Interview (MDI)" contest. Being a finalist, the MHSS team was a given a chance to talk to their "dream interviewee," which was Pangilinan.

Their one-hour talk yielded stories about Pangilinan not known to many – from his life as a child to his struggles during his younger years to what made him come back to the Philippines after establishing a successful career abroad.

"We asked him a question, 'What did you expect from the youth today?' And he answered, 'More.' That's very encouraging," Joson said.

Quing recounted that Pangilinan, who chairs various companies in different industries including the Philippine Long Distance Telephone Co., mostly underlined the importance of courage in one's life and living it to the fullest. "He said courage counts. He quoted a lot [of books] about courage."

Pangilinan, the students noted, never wants to be known as someone who runs various businesses but as a Filipino who helps improve the lives of others.

Their coach and teacher, Jan Erwin O. Macam, was with the students during the interview and he got to ask the chief executive officer (CEO) some questions as well. He said he and his team also discovered that Pangilinan was like any other ordinary student during his younger years.

"What makes him special now is that he believes he has this capacity to improve the lives of Filipino people by creating jobs, for example. That's why he came back to the Philippines," said Macam.

From Archuleta to Corona to MVP

Meeting Pangilinan was admittedly a very memorable experience for the 15 year olds, who at their own initiative participated in the MDI contest.

Upon her mom's egging, Villanueva formed a team for the competition. She confessed that initially she and her friends joined out of fun and because of the prizes, including a chance to go to Madrid, Spain as one of the Philippine representatives to the "My Dream Interview" global project.

She said they did not expect to make it to the finals and meet Pangilinan.

The businessman, they said, was not even their first choice. Among the personalities they initially considered were popular American singer David Archuleta, controversial television host Willie Revillame and ousted Chief Justice Renato Corona.

But Macam suggested that they should go for Pangilinan. "I suggested MVP because I feel like he's an interesting person and people don't know a lot about him. What people usually know about him is all about properties that he has. Unlike the other personalities that they have suggested, these people have their life stories already written. You can search these stories on the Internet."

"The fact that he is able to lead a good number of companies means that he's really a good and capable leader. He was able to acquire different companies and probably our students might go into the same field as his in the future," he added.

The students did not think twice when Macam made the suggestion, with Villanueva saying that it was "actually a pretty good idea."

Joson said Pangilinan was a more logical choice because he is very successful and has contributed a lot to the country.

The contestants were required to submit a total of 15 questions that they would want to ask their dream interviewees. Villanueva, Joson, Arreola and Quing formulated their own list separately before choosing the top 15 questions with Macam's assistance.

Quing shared: "At first we just joined for fun, but when we were formulating our questions we got serious."

Interviewing MVP

They got a chance to interview the businessman only after they were chosen as among the finalists.

When they met Pangilinan for the first time, they said he was intimidating and looked strict. During the interview, they remarked that he was very candid and attentive.

"We weren't limited to our prepared list of questions. Some of them were follow-up questions and sometimes he'd ask us questions," Villanueva remembered. "When the interview was about to start and he entered the conference room, he was just looking at his cellphone. I was like, 'Oh my gosh, he is not going to listen to us. He is just going to be preoccupied with whatever he's doing.' And then he just placed it down, he didn't touch it. During the interview, he was looking straight at us and answering the questions properly. And I was like, 'Okay, he is a good person.'"

"He started making jokes which lighten up the mood somehow. He was really accommodating," Quing recalled.

Quing added that it was a privilege to talk to Pangilinan, especially after they learned that it was hard to get an interview appointment with him.

Macam is proud of his students for taking the initiative to participate in the contest. "Not everybody is given the chance to do something like this and these four girls are very much lucky."

Although the MHSS team failed to make it to the final two, they are nonetheless happy to have met Pangilinan, shared his story and inspired the readers.

To read the excerpts from their Dream Interview, click here.