Malayan High School of Science enjoins community in building a safe environment for children
Friday, March 23, 2012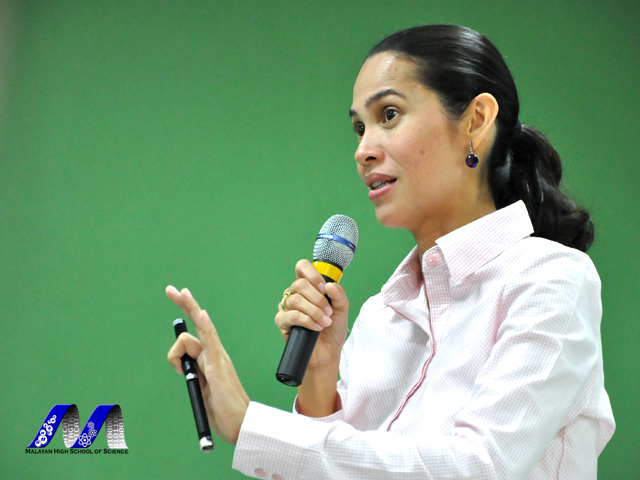 Actress and parenting expert Maricel Laxa-Pangilinan shares how parents can start building a safe environment for their children.
For a child's holistic development, learning must be obstacle free. A student must have full access to important information, equipped with the right tools, and guided through effective methods. But another key factor in a child's growth is his environment.

A safe and happy environment is what allows a child to open himself to interesting things, encourages him to take up new challenges, and keeps him in the mood for learning.

Believing that a safe and happy learning environment is essential in honing the country's future scientists and technologists, Malayan High School of Science (MHSS) held the parenting seminar "Building a Safe Environment for Young Minds (An Anti-Bullying Program)" last March 17 in its Audio-Visual Room. Open to the public, the event aimed to educate parents on how they can get more involved in building a safe environment that will greatly aid in their children's development.

For MHSS's administrative officer and registrar Ferdinand R. Geronimo, a strong partnership between the school and the parents is ideal in supporting its students' optimal growth.

"MHSS endeavors to provide its students a safe learning environment, where students are free from social harms. That way, students can focus more on their studies. [To achieve this,] we want to empower parents."

For principal Dr. Efren B. Mateo, to provide a safe learning environment for students must be one of the top priorities of every school. Schools must also have a strong stance against one of the most common behavioral and psycho-social issues among the youth today – bullying.

"MHSS's seminar on anti-bullying is very important. It is a manifestation that we are serious in facing the problem and minimizing, if not totally eradicating, the incidences of bullying in our school. We envision MHSS as a school with an environment that is safe, friendly, and conducive to learning."

The seminar's main highlight was the talk "A Stand on Safety: No to Bullying!" by actress and parenting expert Maricel Laxa-Pangilinan. In her talk, she discussed the nature of bullying, its prevalence, and other facts about the issue. Laxa-Pangilinan also shared to the attendees how they could protect their children and families from such social harms and help change the society.

The seminar's attendees, who were composed of parents and grade school and high school teachers from Colegio de Sta. Rosa and Paco Catholic School, have found the talk interesting, but more importantly, it made them realize one thing.

"The talk was very enlightening, uplifting, and inspiring. The part that I liked the most was the tips on how parents and children can deal with bullying. We were made to realize that the issue of bullying is prevalent, even at home, school, anywhere," shared parent and lawyer Maria Regina M. Ignacio.

For Atty. Ignacio, addressing the issue of bullying can only be a collaborative effort and must begin with the acceptance of its existence and imbibing advocacies like that of MHSS's.

Aware of bullying's prevalence among schools and its serious impact not only on the victims but also on the bullies themselves, MHSS came up with the seminar as one of the first major projects of its Safe School Program.

"We wanted the parents to realize that bullying, in one form or another, is present in all schools. They should be enhanced with some strategies on how to detect if their children are being bullied or are bully themselves and should be given some suggestions as to the approaches or measures to undertake in such cases," said Dr. Mateo.

MHSS's Safe School Program was conceived in 2011.

"Through the help of the MHSS Parents' Council, we started a survey among students, teachers, school staff, and parents regarding the incidences of bullying in the school campus. We found out that, like in other schools, there were incidences of bullying at MHSS. It may not be as serious as the case in other schools, but nevertheless, we cannot just do nothing about it. For a start, we disseminated the results of the survey to the academic community. Next, we incorporated bullying as one of the topics to be discussed in our homeroom classes. At the same time, we asked students to be vigilant and report cases of bullying. We have meted out sanctions to students guilty of the offense," explained Dr. Mateo.

MHSS would like to emphasize that its advocacy is not just for the benefit of victims but for the benefit of its entire community.

"MHSS's policy on bullying is constructive and not adversarial. Our school helps and counsels not only the bullied but also the bullies," adds Geronimo.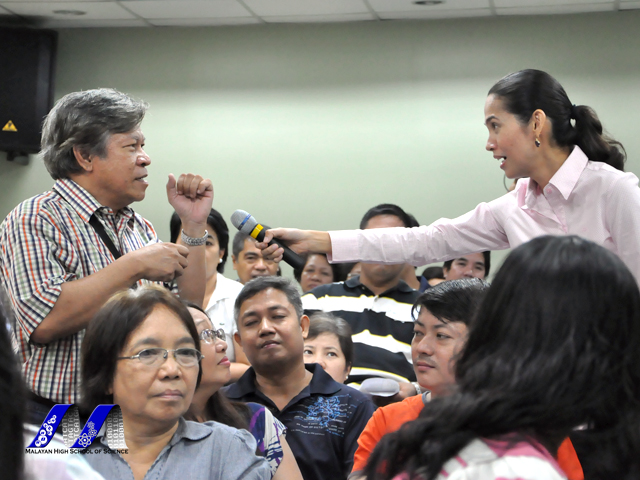 Maricel Laxa-Pangilinan opens the floor for parents to share their own experiences of bullying.