Malayan High School of Science holds forum on anti-bullying
Monday, March 12, 2012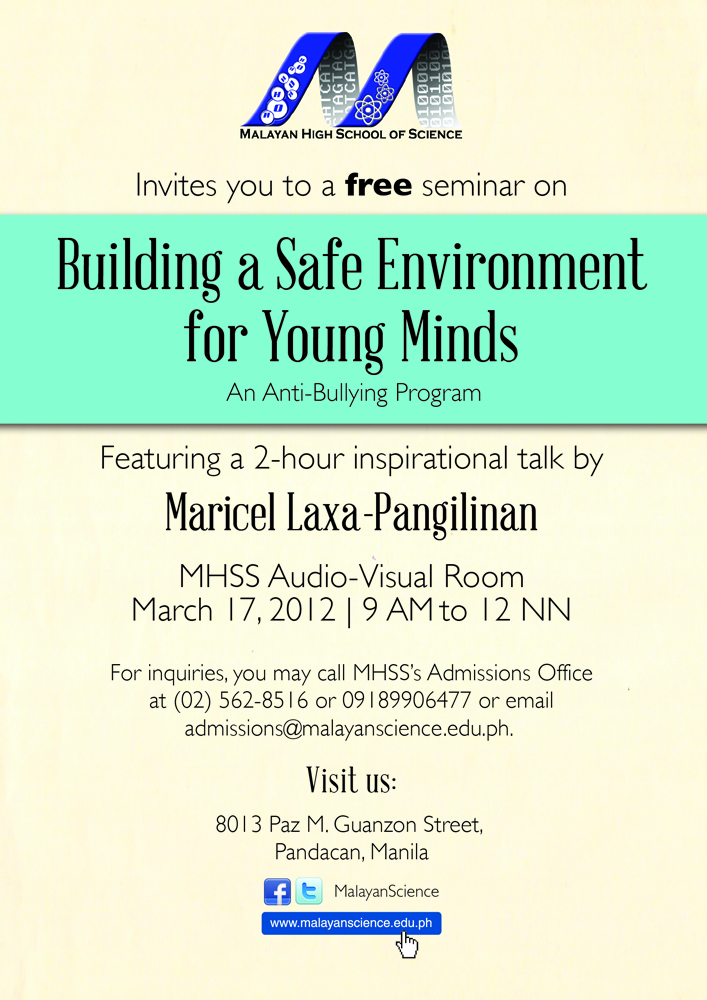 Believing that a safe and happy learning setting is a key factor in a student's holistic development, Malayan High School of Science (MHSS) will hold the seminar "Building a Safe Environment for Young Minds." This event aims to educate parents on how they can get more involved in providing a safe environment that will greatly aid in their children's development.

For MHSS's administrative officer and registrar Ferdinand R. Geronimo, a strong partnership between the school and the parents is ideal in supporting its students' optimal growth.

"MHSS endeavors to provide its students a safe learning environment, where students are free from social harms. That way, students can focus more on their studies. Our forum aims to encourage more active participation from the parents in nurturing their children not just academically but holistically. We want to empower parents."

The forum will feature a talk by one of the country's famous parenting experts, Maricel Laxa-Pangilinan, which will tackle one of the most common behavioral and psycho-social problems of the youth – bullying.

In her talk, she will discuss the nature of bullying, its prevalence, and other facts about the issue. Laxa-Pangilinan will also share to the attendees how they can protect their children and families from such social harms and help change the society.

A mother of five, Maricel Laxa-Pangilinan is an award-winning actress and author of children's and parenting books.

Through this seminar, MHSS hopes it doesn't only make people aware of its advocacy but also engage the public in building a happy community for kids.

"Bullying is a serious issue among the youth today. MHSS's policy on bullying is constructive and not adversarial. Our school helps and counsels not only the bullied but also the bullies. With our upcoming forum, we hope that we can enjoin parents in resolving bullying and promoting a sound academic community for our youth," adds Geronimo.

The "Building a Safe Environment for Young Minds" seminar of MHSS will be held on March 17, 9 A.M. to 12 noon, in the school's Audio-Visual Room. It is open to all parents. For inquiries and to reserve slots, you may call MHSS's Admissions Office at (02) 562-8516 or 0918-9906477, or email admissions@malayanscience.edu.ph.