MHSS launches its e-newsletter Whizzy Updates
Friday, February 24, 2012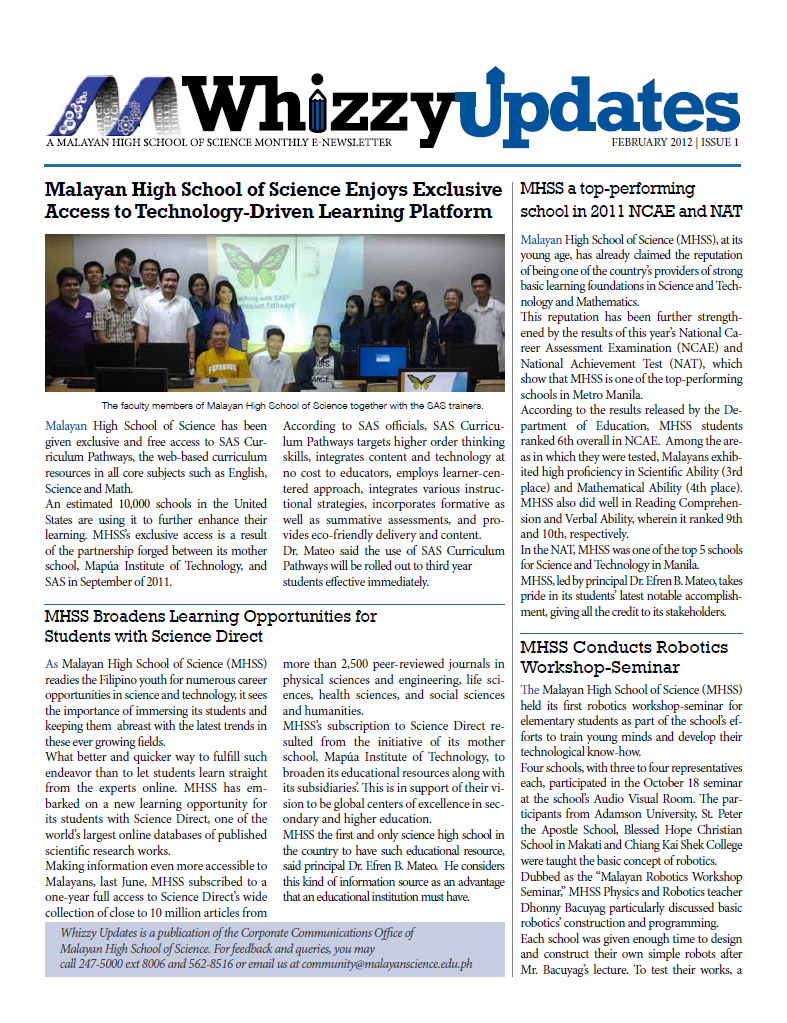 Being entrusted with the youth's education and holistic development is both a responsibility and a privilege for Malayan High School of Science (MHSS). To assure parents that they have chosen the right high school for their children, MHSS has launched the very first issue of its quarterly e-newsletter, Whizzy Updates.

Through Whizzy Updates, the School lets its stakeholders in on the latest important happenings in and out of its campus. Whizzy Updates features a series of academic and non-academic involvements, including achievements, of the students and faculty of the School. It also features the various initiatives of MHSS toward academic excellence.

Dr. Efren B. Mateo, the School's principal, is happy about the launch of its e-newsletter.

"Everyone here at MHSS is happy about the launch of the e-newsletter. In addition to our website, the e-newsletter serves as another form of communication between the school and the parents, its alumni, and other stakeholders."

Dr. Mateo believes that the features in the e-newsletter will delight parents and assure them of the School's faithfulness to its vision and mission.

The first issue of Whizzy Updates highlights MHSS's exclusive access to SAS Curriculum Pathways and Science Direct, and the results of the 2011 National Career Assessment Examination and National Achievement Test.

It also features the School's basketball player Justin Serrano, who was chosen to be part of the 2011 Jr. NBA All-Star Philippine team, and multiawarded taekwondo athlete Pauline Marie Cipriano, who shares how she keeps a balanced student life.

The entire maiden issue of Whizzy Updates can be downloaded here. Those who want to subscribe to the Whizzy Updates may email community@malayanscience.edu.ph.