MHSS celebrates 6th founding anniversary
Monday, January 30, 2012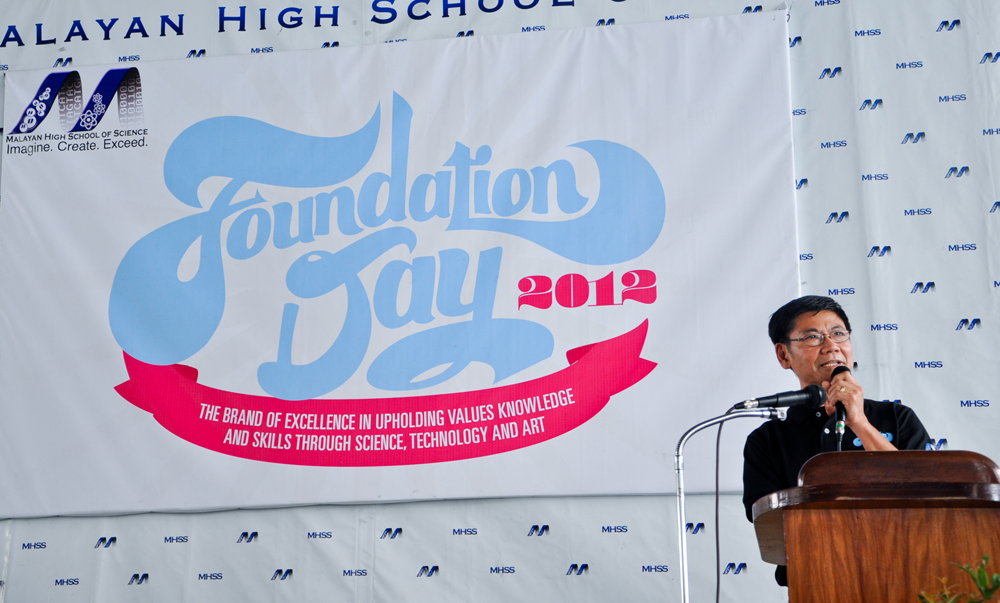 Dr. Efren B. Mateo, principal of Malayan High School of Science (MHSS), delivers his welcome remarks before faculty members, staff and students during the opening program to formally begin the 6th Foundation Week celebration of MHSS.
The Malayan High School of Science (MHSS) in Pandacan, Manila celebrated its founding anniversary last week, marking six years of not just continuously espousing excellence in science, technology and the arts but also instilling proper values to its students.

During the week-long celebration that began on January 16, different activities showcasing the school's "holistic approach" in the development of its students were held.

"We wanted to show that aside from science and technology, MHSS also advocates a holistic approach. We're molding our students not just in the field of science and technology and mathematics, we want to instill in them the correct values and to raise their social awareness as well," said Mr. Ferdinand Geronimo of MHSS Registrar's Office.

Activities such as the first "Science and Technology Lecture Series," "Wiz-Bee (SciMath)" and "Film Showing" were held to further boost the students' knowledge in the fields of science, technology as well as mathematics.

In the Lecture Series, MHSS invited experts - Dr. Delia B. Senoro of Mapúa Institute of Technology's Sustainable Development Research Office (Fractious Anthropogenic Activities Lead to Global Warming and Disaster), Mr. Alvin Magpantay (Application of computers in the life sciences) and Prof. Elcid B. Serrano (Trends in ICT) - as guest speakers.

Also, during the lecture series, MHSS principal Dr. Efren B. Mateo discussed the topic, "Rationalizing Mathemaphobia: Tactics in Problem-Solving."

"Phantom of the Opera" and "Dance Off," meantime, showcased the students' acting and dancing skills, respectively.

"Malayan Idol 2012," the search for beautiful, talented and ideal students, was also staged during the celebration.
Knowledge, skills and values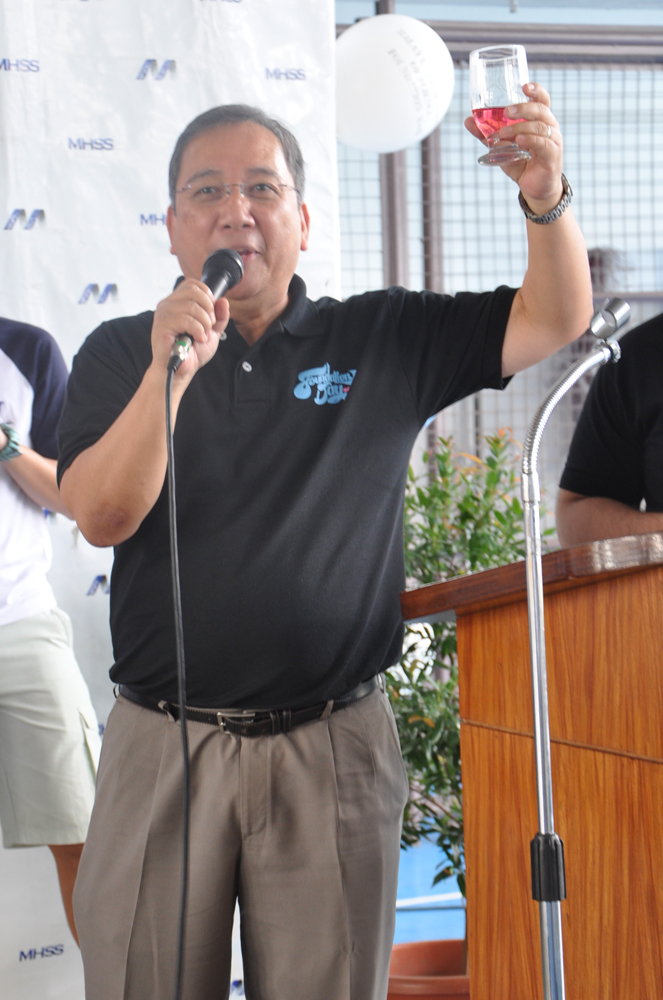 Malayan High School of Science (MHSS) president Dr. Reynaldo B. Vea leads the ceremonial toast during the opening program to formally begin the 6th Foundation Week celebration of MHSS.
During the opening program held at the school's gymnasium, Dr. Reynaldo B. Vea, president of MHSS and its parent school, Mapúa, highlighted why it is important for students to have proper values as part of their development.

"Values are very important. There are some people who are very intelligent, very skillful, have a lot of knowledge but if they don't have the correct values, they fail in life, they commit some wrongdoings. For all the things that you can do, it all comes to naught if you don't have the proper values," Dr. Vea said.

Equally important, he said, is having an active imagination and learning the necessary knowledge and skills to achieve their dreams and do great things in life.

He also praised MHSS for its accomplishments in the past six years.

MHSS was one of the top 10 schools in Metro Manila that has been performing well in the National Achievement Test for the last three years. MHSS students scored high most especially in subjects like math and science and technology. MHSS students are also shining in the field of sports.

Dr. Mateo said, after six fruitful years, the school is going "healthy and strong."

"MHSS is shaping up according to what the [founders] have envisioned," he said. "In addition, our students are winning in athletics and in academic contests, a clear manifestation that here at Malayan, we do not only cater to the mental development of the students but their physiological and psychosocial well-being as well. In short, we are committed to the holistic development of our students."

MHSS has already produced two batches of graduates, who are accepted and doing well in prestigious academic institutions in Metro Manila such as Mapúa.

"We are honing our students to become future scientists and technologists," added Dr. Mateo.

Dr. Vea, meanwhile, said he expects the school to "exceed what we've already achieved," and this starts by imagining what it wants to become and striving and working hard toward achieving that goal.
The faculty members of Malayan High School of Science (MHSS) together with (standing, center) MHSS president Dr. Reynaldo B. Vea and principal Dr. Efren B. Mateo.