MHSS to compete in 2012 National Robotics Competition
Friday, January 20, 2012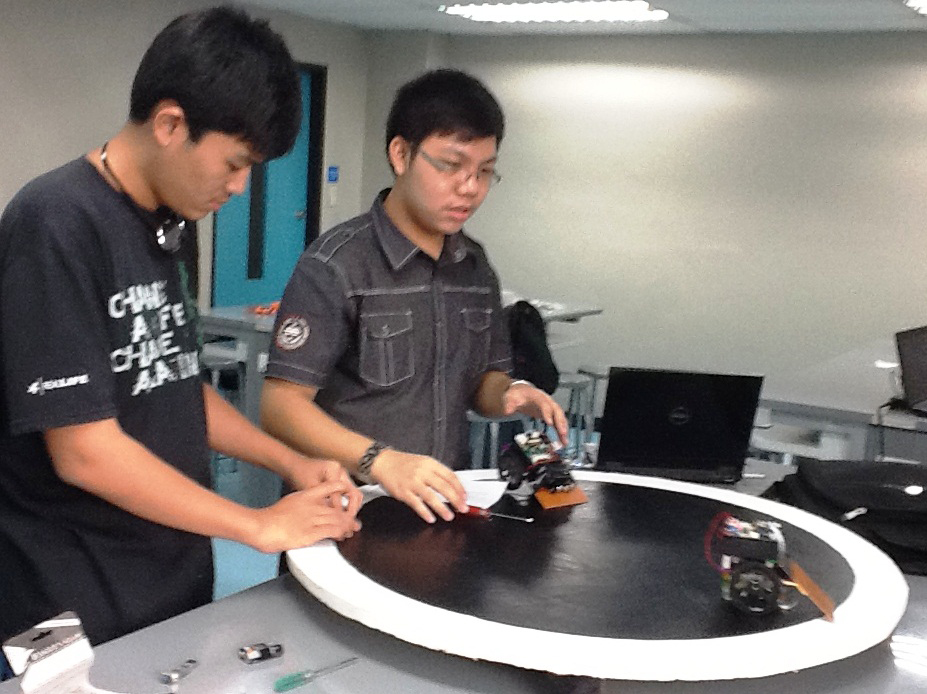 The students of Malayan High School of Science work on their robots that will be used to compete in the 2012 National Robotics Competition.
Three teams from the Malayan High School of Science (MHSS) are all set for the 2012 National Robotics Competition, touted as the biggest robotic event this year, on January 20 at The Arena in San Juan City.

The MHSS teams, which are composed of two students each, are competing in Sumobot's 500 grams division. Inspired by Japan's sumo wrestling, a robot is pitted against another and the first one to push the opponent's machine out of the ring within the allotted time will be declared the winner.

The teams' adviser, MHSS Physics and Robotics teacher Dhonny Bacuyag, said the team of Lorenzo Zamora and Emilio Maestro already made it to the finals during competition's October 2011 elimination round.

The teams of Hymn Nuntasomsaran and Dominic Chuaunsu and Chols Miso and Renz Florido will still compete in the second elimination round today.

Mr. Bacuyag explained that winning depends on two things – the design of the robots and the skills and ability of the students to strategize.

"In sumo wrestling, it's not enough that you are physically strong. You should also know how to strategize, you should have a technique. The same applies to Sumobot," he said.

Mr. Bacuyag is optimistic that all three teams from MHSS will be victorious in their quest to win in the division. "We will win in this competition," he said.

MHSS has been invited by Genetic Computer Institute to the National Robotics competition, which provides a venue to students and hobbyists alike to showcase their best inventions and programming skills.

Mr. Bacuyag said participating in the competition is beneficial for the students because it exposes them to other inventions of students outside their school. He added that the competition is a good exposure for them.

MHSS is one of the few schools in Metro Manila that has robotics as part of its curriculum. This is in line with the school's goal to "provide varied fields of interests in its curriculum so that students have choices to nurture their individual knowledge and skills," said MHSS principal Dr. Efren B. Mateo in his previous interview.

In October of last year, MHSS held its first robotics workshop-seminar wherein it invited elementary students as the participants.