Malayan Science celebrates culture of excellence on 14th year
Friday, January 17, 2020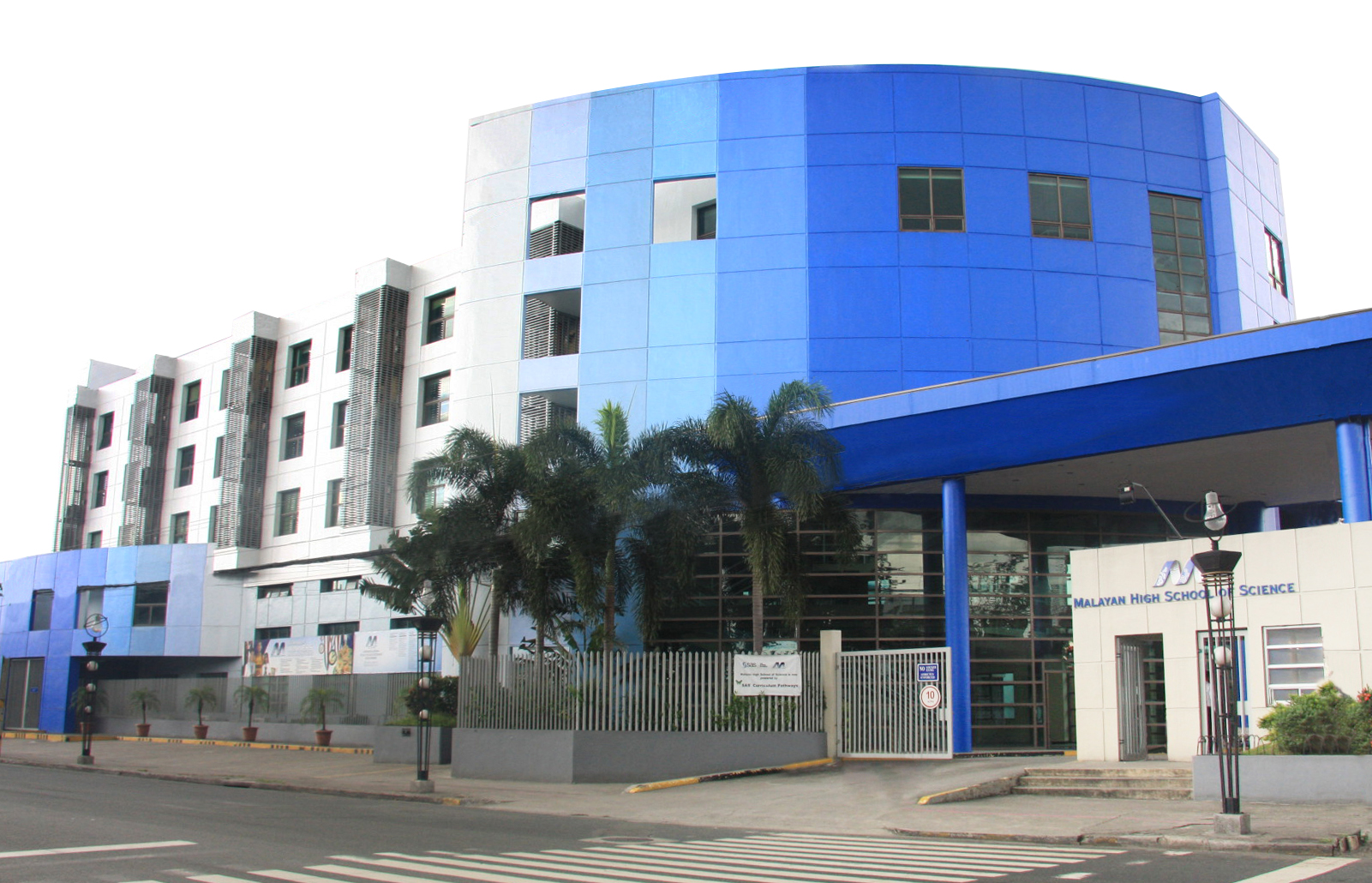 Through the years, Malayan High School of Science (MHSS) has maintained its status as one of the leading high schools in the country, proven by its topnotch education, innovative pedagogies through state-of-the-art facilities and new digital resources, and numerous student recognitions and accolades.
Reaching its 14th year, MHSS vows to continue bringing its A-game to deliver its excellent quality of education. Malayan Science's 14th Foundation Week will be held on January 20 to 24, paying homage to the school's commitment in fulfilling its vision of becoming a global center of excellence in secondary education.
The celebration is themed "FOUR more than a decade" with FOUR serving as a mnemonic for phrases that pertains to Malayan Science's culture—fostering camaraderie, overcoming barriers, unleashing potentials, and responding to challenges.
"The school embodies this culture by providing excellent service to the students and parents and by constantly finding means to improve its systems, the facilities, and the competence of its teachers and employees," said MHSS Principal Emmillie Joy B. Mejia.
Fostering camaraderie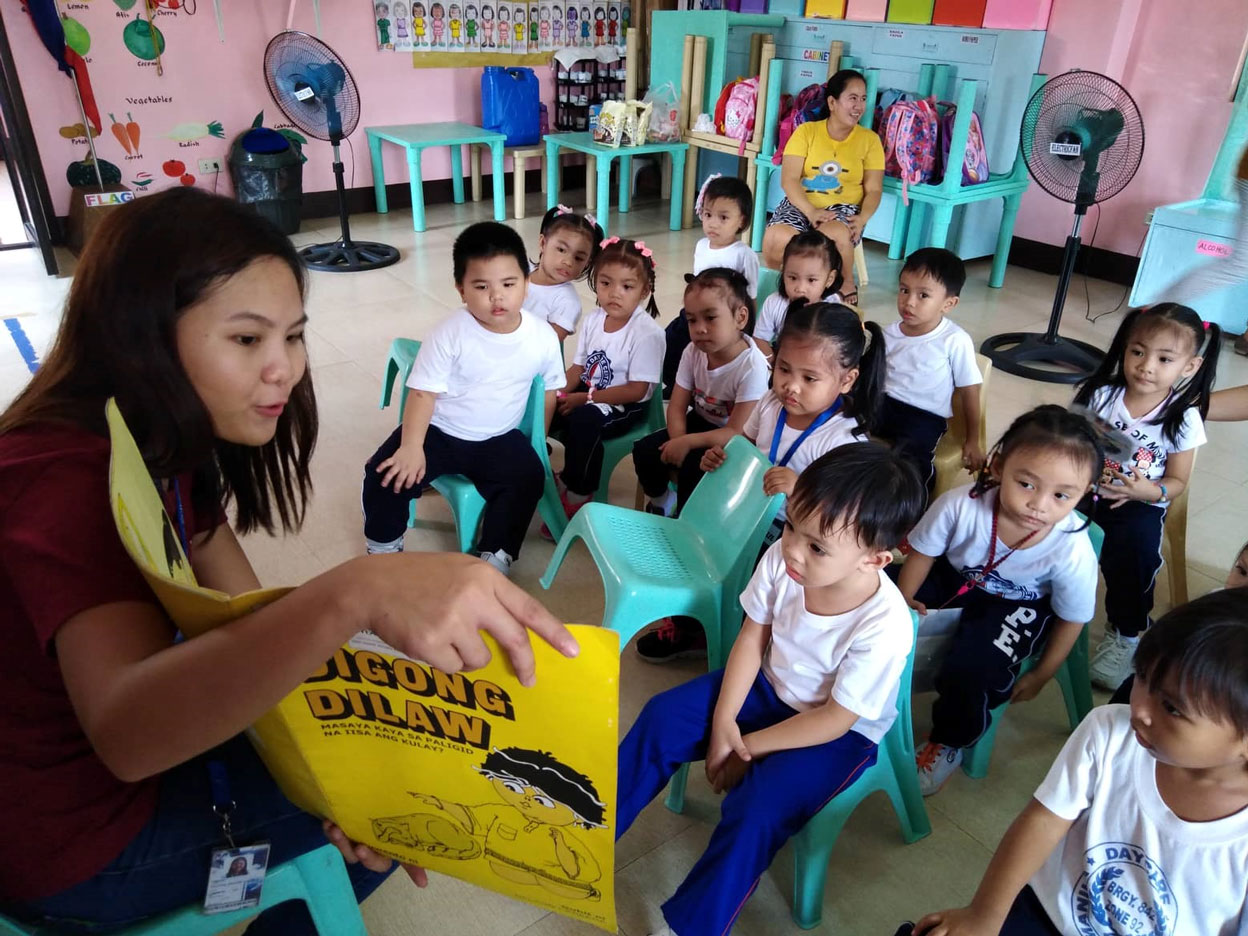 Children of Barangay Esteban participate in a storytelling activity conducted by Malayan Science in the adopted community.
In the previous year, MHSS continued its community outreach activities for its adopted community Barangay Esteban in Pandacan, Manila. Among the activities conducted at the barangay are donating computer units and conducting storytelling activities for children.
The outreach program not only helped Malayan Science's adopted community but also fostered camaraderie among the school's stakeholders such as students, employees, and parents.
"This is one aspect of our education that gives more meaning to knowledge creation and innovation. This allows them to learn more about their environment. From this, they get ideas as to how they can apply what they have learned inside the classroom to better the society," said Mejia.
Aside from developing competent individuals in the area of science, technology, and mathematics, MHSS also aims to polish their students into becoming great leaders serving and contributing in the community.
"As a student of MHSS, the least I can do is to study and develop self-awareness in order to contribute something in the community," Grade 10 student Mariah Yrene Sagaysay, a participant in the outreach activities, said.
Overcoming barriers
Over the years, Malayan High School of Science has elevated its delivery of topnotch science, technology, and mathematics-oriented education through its vast online and digital resources. These resources include an online learning management system and real-time video conferencing tool.
"The flexibility of digital technologies offers greater opportunities for teaching and learning. Shorn of the constraints of time and place and given new modes of content delivery, our teachers and students can better design teaching and learning interactions," MHSS President and Chief Executive Officer Dr. Reynaldo B. Vea said.
Besides complementing face-to-face classes, these technologies have enabled Malayan Science overcome barriers in knowledge dissemination. MHSS and Mapúa, its mother school, utilizes their very-own learning management system, Cardinal EDGE, to conduct online classes.
In 2019, Malayan Science held various Digital Days, a conduct of synchronous online classes, to ensure its classes proceed on class-suspending days due to national holidays, natural calamities, transports strikes, and other unforeseen events.
Unleashing potentials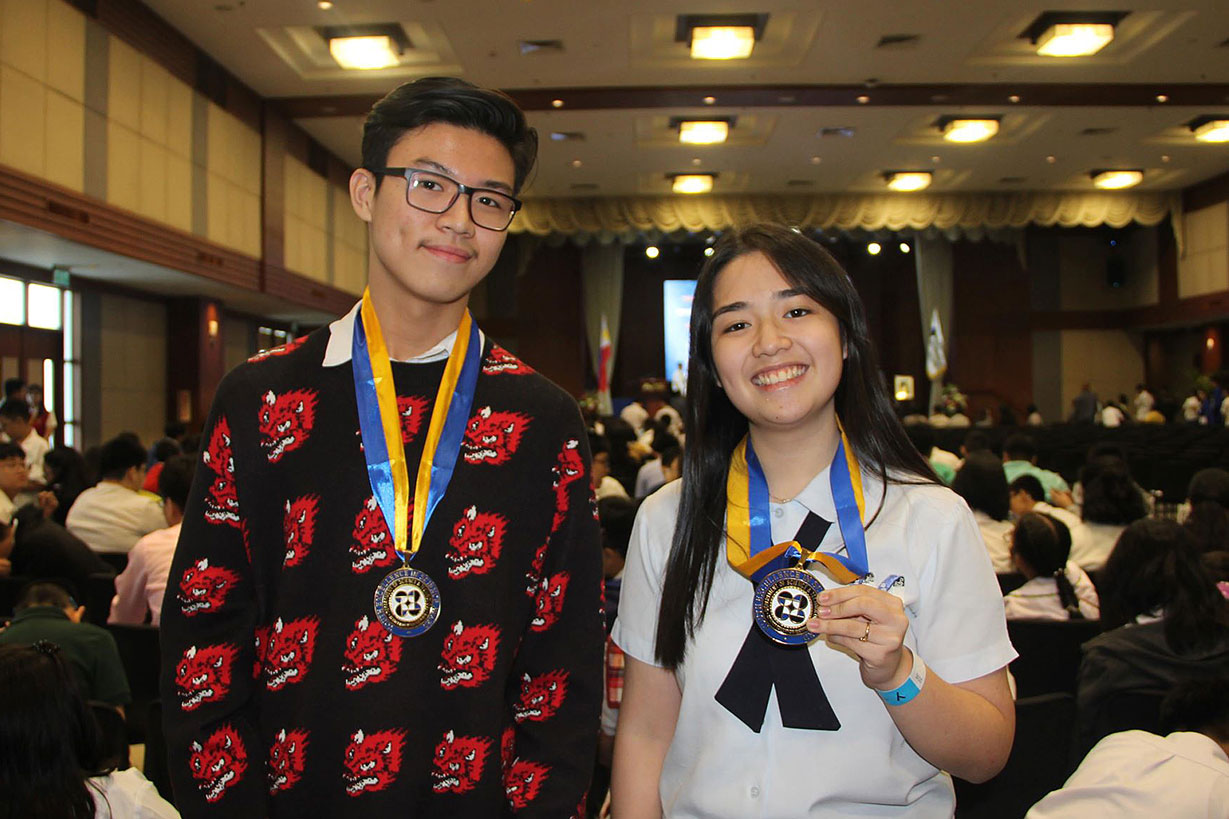 Grade 10 student Mark Julius Ang (left) and MHSS alumna Kyara Christelle Riguerra receive the Youth Excellence in Science Award.
The year 2019 was another year of unleashing Malayan Science students' potentials.
In February 2019, Malayan Science alumna Kyara Christelle Riguerra and Grade 10 student Mark Julius Ang received the Youth Excellence in Science Award, a medal of distinction given by the Department of Science and Technology, for their previous achievements in international science and mathematics competitions.
Multi-awarded gymnast Akhira Bint Afghani Alonto brought home another set of awards from the Philippine Cup last March 2019. She placed second runner-up for the individual all-around category, bagging a gold medal in uneven bars, silver medals in vault and floor exercise, and landing on the fourth spot for balance beam.
Meanwhile, Malayans dominated the 1st Philippine National Vedic Mathematics Olympiad held last August 2019. Four of its representatives, Grade student Daniel Ethan Lim, Grade 8 students Colonel Sherlon Vance Gonzales, Mher Angelo Atienza, and Grade 10 student Gerardo Acebedo, hauled a total of six medals from the competition.
Malayan Science also emerged victorious in the 7th Philippine Robothon last September 2019. A group composed of Grade 10 students Mark Francis James Bona, Cullen Mitchel Cobi Cruz, and Jacon Caden Paw topped the Programming Skills Category. Meanwhile, a group of Grade 7 student Daniel Ethan Lim, Grade 8 students Precious Beatrice Magsombol, and Naomi Kleah Casio, finished as second runner-up in the said category.
Two Malayan campus journalists took home awards from the 17th LIYAB NCR-wide Journalism Press Conference held last October 2019. Grade 10 students Aminah Bongaros and Matthew Sebastian Pascua placed third and fifth in Feature Writing and Photojournalism, respectively.
"These recognitions demonstrate that the school is an instrument in training students to be well-equipped and well-developed individuals in learning and applying their knowledge in real-life situations," Mejia said.
Responding to challenges
At the start of School Year 2019-2020, Malayan Science launched the STEM Learning Center, its newest state-of-the-art facility. The learning center, which was developed in collaboration with First Eduspec, Inc., features Malayan Science's new STEM with Robotics curriculum framework that empowers the 21st century skills of Malayan Science learners.
"Through the STEM Learning Center, STEM concepts are seen in action and applied through various simulated mission and challenges, and learners are encouraged to create functional prototype models that represent the team's solution to a certain real-life-based situation," Mejia said.
Staying true to its commitment of becoming a global center of excellence in secondary education especially in the field of science and technology, Malayan Science, as it always does, responds to the challenge of continuously improving its quality of education.
This year, MHSS will implement a Coding Program as an elective subject in all Grade levels. In addition, it will also utilize Panopto, a lecture capture tool.
"With the fast pace of development of technologies and with the explosion of knowledge, one has to continually keep up on pain of being left behind and consigned to the heap of the irrelevant. As a science high school we simply cannot accept being at the trailing edge," Dr. Vea remarked.