MHSS Robotics Team Prevails in Competition
Tuesday, December 5, 2017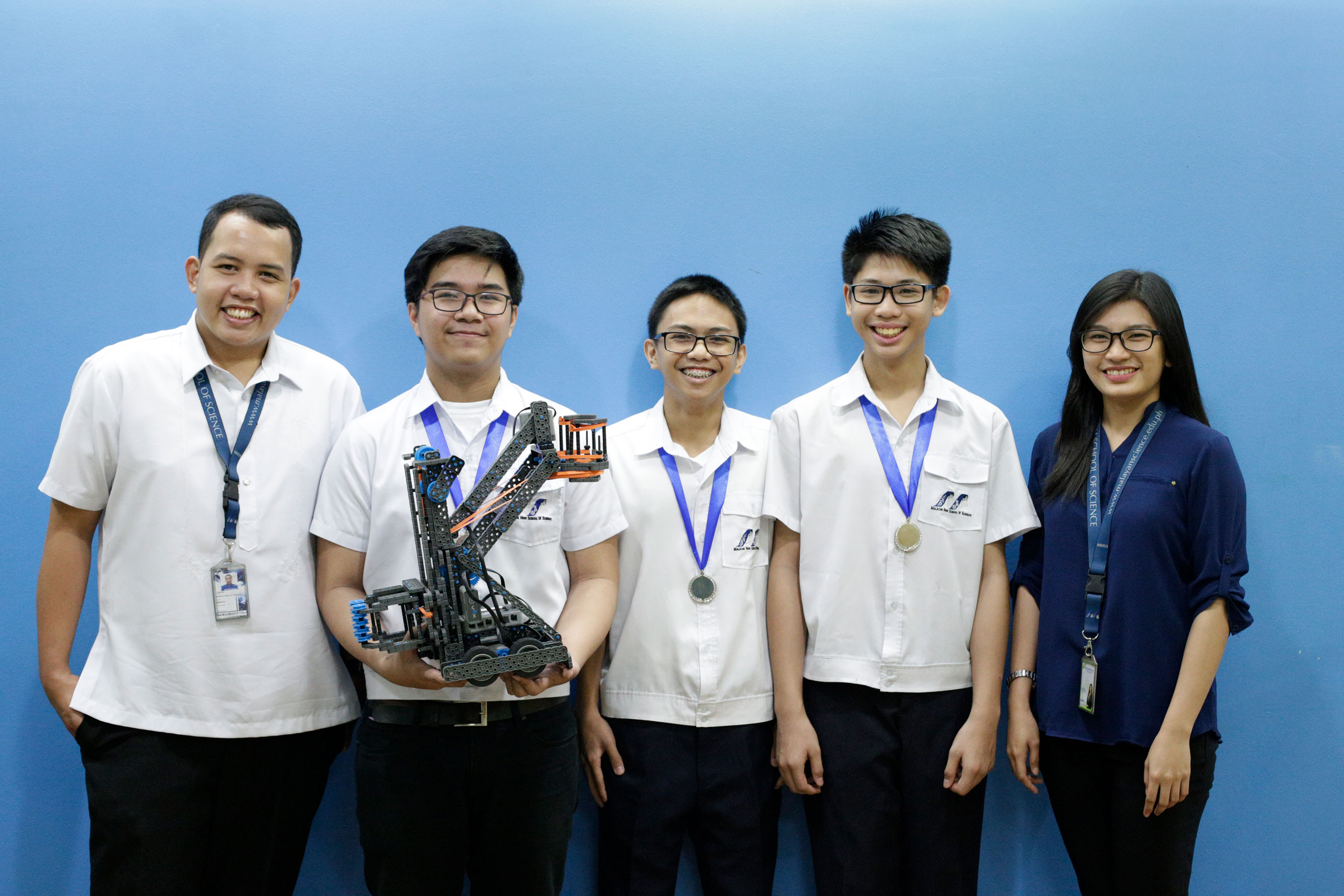 Two teams from Malayan High School of Science bagged awards during the Power Robotics Skills Competition held last September 22 at the World Trade Center, Pasay City.
Team A, composed of Rochel Patrick R. Omoyon, Gabriel Joaquin B. Siojo, and Rahjen Zyrel A. Remo, closed the gap at 4th place while Team B, with Milsten Clark Cadorniga, Emmanuel Cavalida, Josh Vincent Contawe, and Sariel Pedraza, finished strong by winning 2nd Runner Up.
The two teams were accompanied by their coaches, Ms. Joan T. Tranquilo and Mr. Phillip Erwyn C. Baron.
Team A was able to modify the chassis of a Standard Drive Base robot and gave it tools to efficiently complete a given task. Meanwhile, Team B modified the Clawbot's claw by making the robot's arm and claw slim enough to grab pieces in hard-to-reach places.
MHSS has always played a vital role in strengthening its students learning, especially in the field of science and technology.
In fact, it has recently updated its robotics course offering, reinforcing collaboration, communication, creativity, and critical thinking among the students. On top of this, the curriculum emphasizes computational thinking as an important skill to make students more competent and globally competitive in terms of providing solutions to real-life problems.
According to Tranquillo, the teams' coach and a robotics instructor at MHSS, the updated robotics program uses different hardware and programming software compared with the previous curriculum. More notably, it also focuses more on scientific, technological, engineering, and mathematical skills.
"This course offering utilizes up-to-date materials designed and simplified for easy construction, programming, and controlling of robot prototypes," she noted.
The competition had two rounds. The first was held last August and the second was in September, along with the awarding ceremony. – Eisen John Apatan