Malayan High School of Science student cops bronze in international math competition
Tuesday, September 2, 2014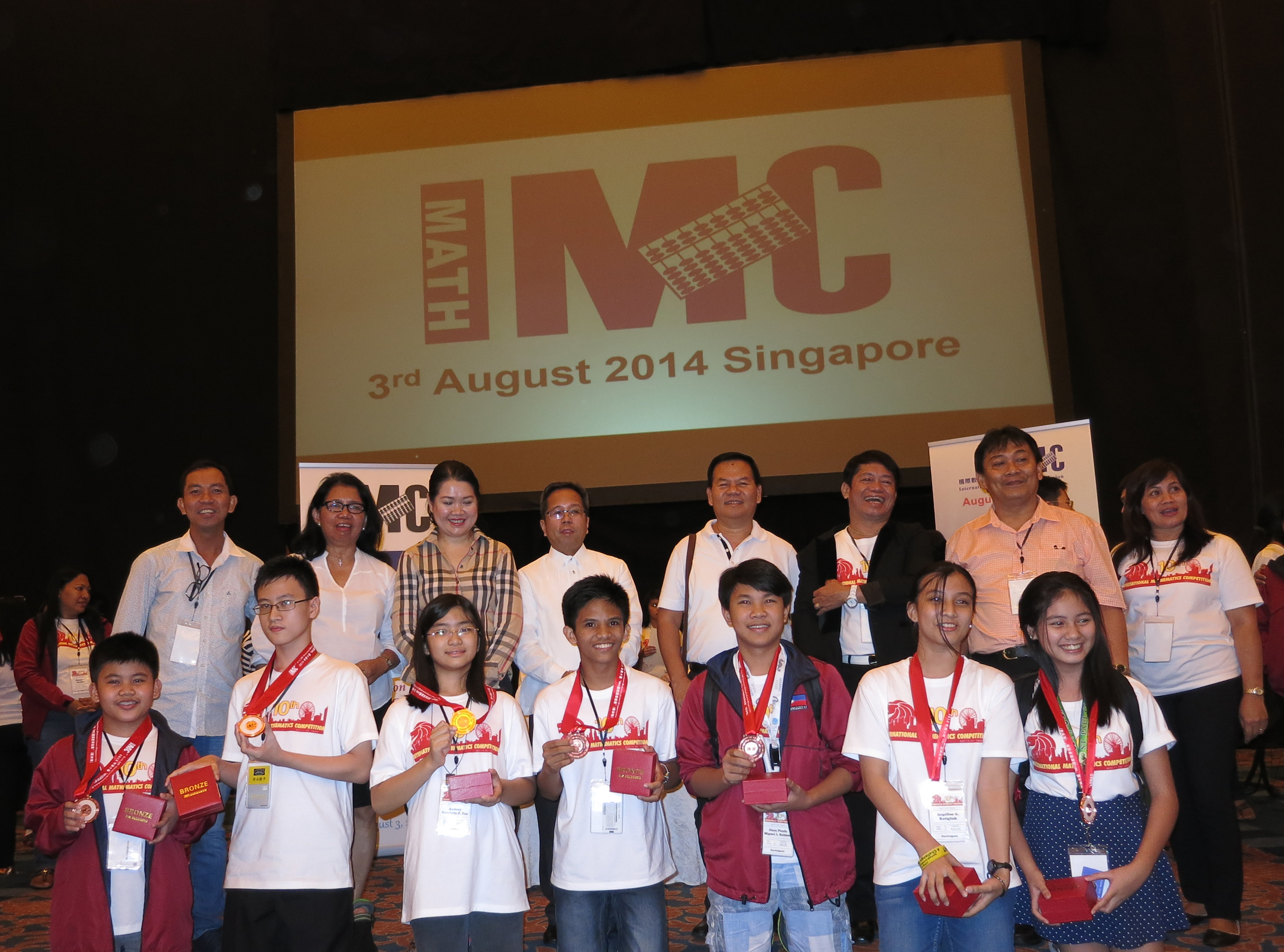 Malayan High School of Science Grade 7 student Audrey Gabrielle Tan (front row, third from left) won a bronze medal at the 2014 International Mathematics Contest held in Singapore last August 3. Tan was part of the Philippine delegate of 155 young mathematicians, which placed second overall in the competition with 22 gold, 44 silver, and 89 bronze medals won.
Seventh grader Audrey Gabrielle Tan of Malayan High School of Science (MHSS) bagged a bronze medal in the recently concluded 2014 International Mathematics Contest (IMC) held in Singapore, joining other 154 Filipino math wizards.
The Philippine team, composed of Mathematics Trainers Guild-Philippines (MTG) members, placed second overall after copping a total of 155 medals – 22 gold, 44 silver, and 89 bronze.
The China team placed first after bringing home 193 medals consisting of 33 gold, 60 silver, and 100 bronze medals, while Malaysia placed third with 92 medals.
Tan said she trained hard for the IMC, her first international math competition. Apart from reviewing on her own, she trained under the MTG to further hone her skills.
The 12-year-old mathematician shared that one of the challenges she encountered was memorizing some complex formulas. To balance this, she familiarized herself with the common and relatively easier ones.
"The problems were difficult and complex, but I tried my best to remain focused. I was determined to bag a medal and bring honor to my school and to the country," she said.
She added that she discovered her love for the subject when she was still in kindergarten. Prior to IMC, Tan has joined Mathematics Teachers Association of the Philippines (MTAP) Math Challenge.
This latest feat is an addition to the Philippines' winning streak in international math competitions. Other countries that joined the 2014 IMC were Taiwan, Indonesia, Singapore, South Korea, Thailand, Iran, Myanmar, and India. Over 1,000 students joined this year's competition.