Beyond the academics: MHSS promotes social culture with student orgs
Friday, August 15, 2014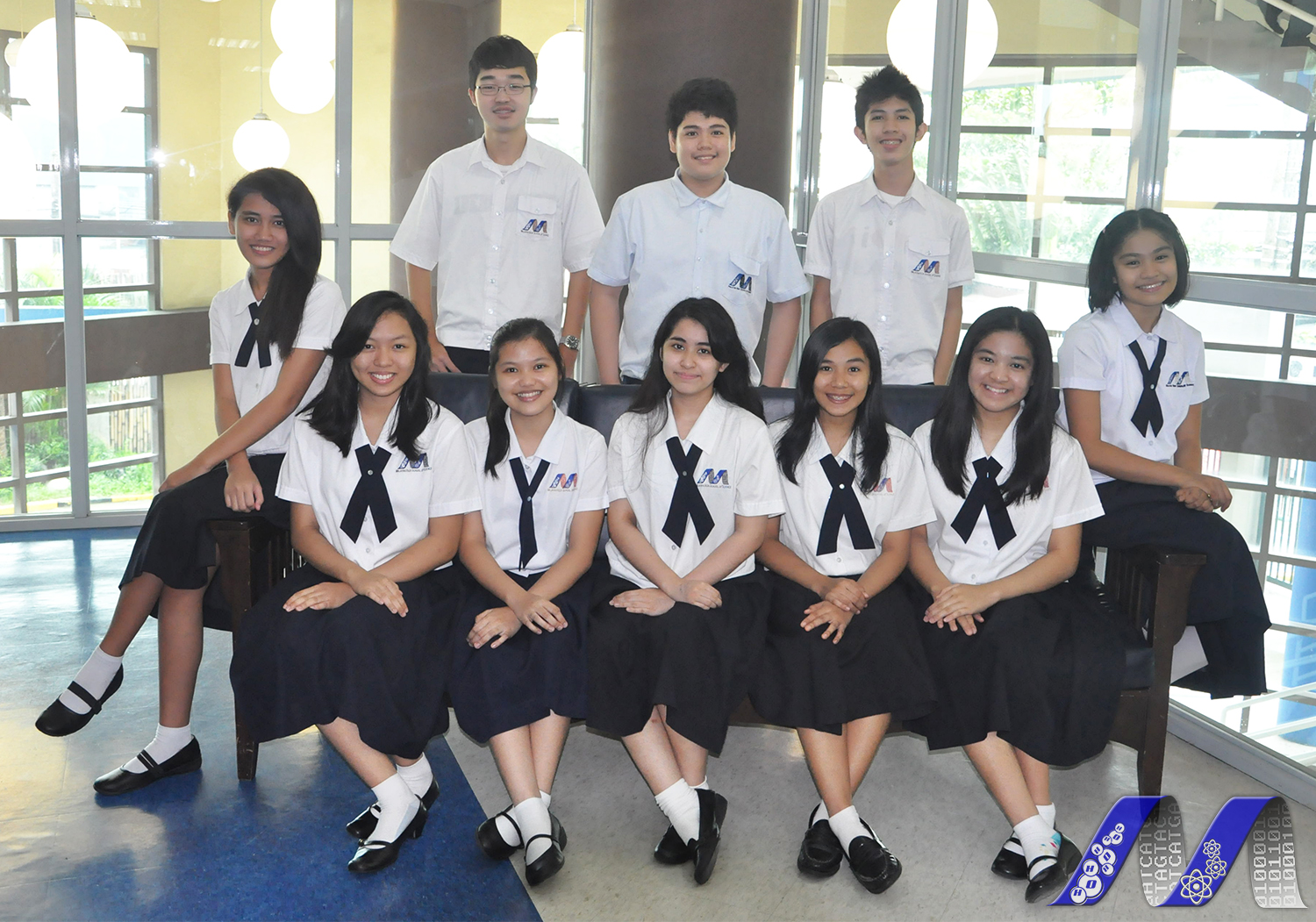 Organization presidents.
First Row, L-R: Athalia Grace Millan (Book Lovers Club); Chelsea Leigh Tan (MaSciTech); Irisa Mae Miralles (Peer Counselors); Ysabelle Shivers (Supreme Student Government); Guia Marie Cipriano (Sports Org); Jacklynn Kyra Agnes (MusikaMalayan); Francesca Julianne Marquez (Eco-Warrios Club)
Second Row, L-R: Se Won Park (Malayan Geographical Society); Jose Miguel Pascua (Whizzy Works); Ivan Pernia (Drop the Bass Dance Crew)
More than just being a place of learning, Malayan High School of Science offers a wide range of venues to express oneself and to be inculcated with a sense of belongingness, which is beneficial for a student's integration into society. One venue is school organizations directed to specific interests of the students.
School organizations have always played a significant part in the life of a student. Without such, school life tends to be monotonous. Students organize themselves according to similar interests, which function as common fields of experience that bind them together.
MHSS interviewed the organization representatives to share with us the dynamics of their groups.
Leaders are good role models
According to Ysabelle Shivers, the president of the Supreme Student Government (SSG), the goal of the SSG is to promote the welfare of the student body. For her it is giving back to the school. "We want to give back to the school all the good opportunities it has provided us. We want to help improve the school," she said.
When asked what place the SSG occupies in school life, Shivers said, "to be good role models to the students because the students need someone to look up to, aside from their teachers and everyone else. As student leaders, we have to set a good example and encourage the students to participate in school events."
The officers of the Supreme Student Government also represent their schoolmates by raising their concerns to the MHSS Administration.
Dance to express
Drop the Bass Dance Crew is the youngest of the student organization of MHSS, founded on the first week of July 2014. Members of a dance group who performed during the foundation week of MHSS thought of forming themselves into a recognized student organization. Madelle Ramos, representative of Drop the Bass Dance Crew, said that this club lets students express themselves through dancing, especially hip-hop.
The pioneer members are still on the process of recruiting potential dancers. They are holding auditions and envisioning future activities like performing during school events and joining in outside-school competitions.
Madelle firmly deems that this club can build up a student's confidence to perform in front of people, as well as to boost their self-esteem. She also says that organizations do not and should not hinder academics.
"Organizations are not a hindrance to education because you can dance anytime – even while studying, you can move around and dance. If you really don't have time for it, you can freely set it aside. It's not really a major thing, but you can express yourself in dancing," said Ramos.
No wattpads
"We encourage them to read books instead of reading from wattpads and e-books," said Athalia Grace Millan, president of the Book Lovers club. According to her, books are "meatier" compared to e-books that have less content. Moreover, e-book readers can get distracted with the other apps installed in their hand-held devices. The Book Lovers club encourages students to love reading from traditional books to enhance their vocabulary and comprehension; hence their name, "Book lovers."
Their advocacy for reading does not end within the confines of MHSS. This year, they organized a book donation drive for the victims of the recent typhoons.
Club members also underwent trainings for storytelling, which they imparted to public school students.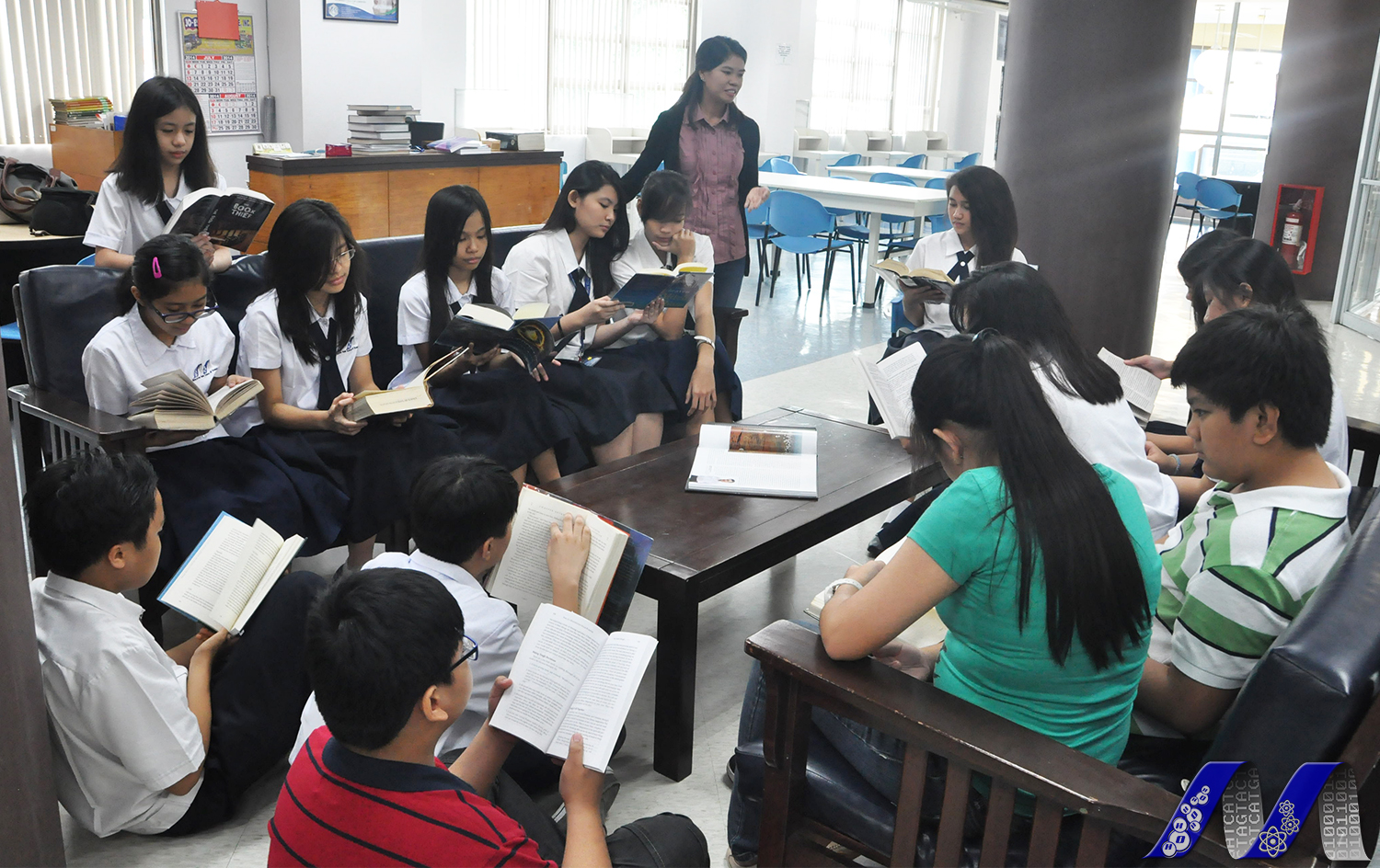 The Book Lovers Club
The warrior is a child
Probably the youngest president you'll meet, Francesca Julianne Marquez is at the helm of pursuing environmentalism among Malayans. "I really love Mother Earth, and I hate how people just put their garbage anywhere and pollution happens. They won't do anything to save her, but start worrying when things happen because of the worsening global warming," she said.
Marquez, 12 years old and currently the president of Eco-Warriors, shares that members of their club do little deeds to the environment such as recycling and throwing their garbage to its proper place. "We help each other. We have fun doing it. We can encourage other students to save Earth," she said cheerfully.
The Eco-Warriors spearhead projects such as tree planting and paper-recycling activities.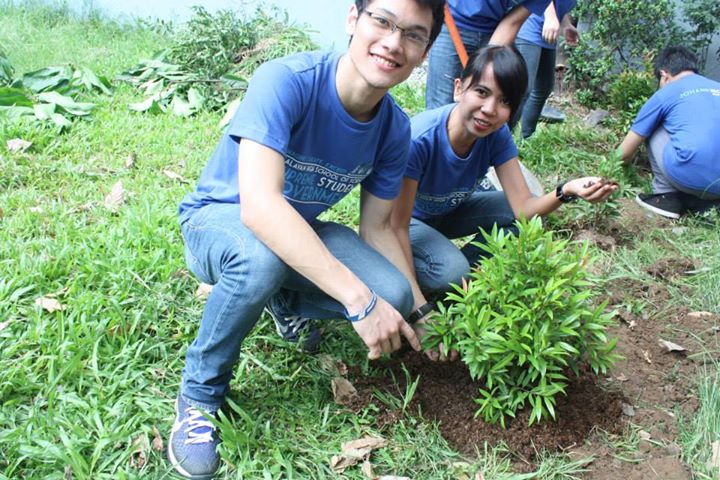 Students and faculty build a garden within the perimeters of the school to advocate environmentalism.
Org of the nerd
The Malayan Geographical Society promotes the Social Sciences in MHSS. Members of this group have a common liking in Geography, History, Politics, and other schools of thought of the Social Sciences. Their president is Korean – Se Won Park.
"An organization is a place where a student can interact with people with whom he shares the same interests. I strongly believe that a school is not just built for academic learning. It is also a place where we learn about life. School organization is a place, I believe, where we can develop and build on our interests and grow," Park said.
Often, their organization is tagged as "the org of the nerd," but its members don't really think themselves as nerds. Most of them are innately introverts who love reading books rather than partying or playing sports. But they sure can organize interesting activities.
Fun while learning
Math, Science, and Technology combined together? MaSciTech. Chelsea Leigh Tan, the organization's president, tells that their organization aims to help their members in their studies as well as to have fun. For Tan, having fun is "the best way to learn."
MaSciTech held a "Malayan Outbreak" last year where participants dodged off zombies by solving Math and Science problems. The organization regularly holds tutorial sessions for their fellow students.
"I joined MaSciTech because I really love Science. I tried, joined it in my first year, and I loved the experience, as we had cool activities such as trips and camps," Tan said.
Music boosts confidence
Singing needs skill. Singing in a choir needs skill and stage presence. Jacklynn Kyra Agnes, head of the MusikaMalayan, the official school choir of MHSS, attests to this. "I like performing, but I get really nervous. MusikaMalayan has taught me to have confidence," she said.
The choir leads the school during the doxologies and singing of the national anthem during programs. They also do some performances, sharing to various audiences their beautiful singing talent.
The members are aiming to join inter-school competitions, both local and international. Because of this goal, they regularly practice to hone their skills.
The MusikaMalayan
Friends advising friends
They are the junior version of the Guidance and Counseling team. They tackle students' problems and offer pieces of advice. They are the Peer Counselors.
The group holds counseling trainings to effectively discharge their duty. Few of the themes that occur in their counseling are time management and bullying. They also entertain freshmen and transferees who find it a hard time adjusting in school.
"I was a transferee last year, I found interest in it. I joined Peer Counselors because I get to help my fellow students, plus I get to train myself," said Irisa Mae Miralles, Peer Counselors President.
The Peer Counselors Club joins the staff of the Guidance and Counseling team in the Homeroom Guidance Program.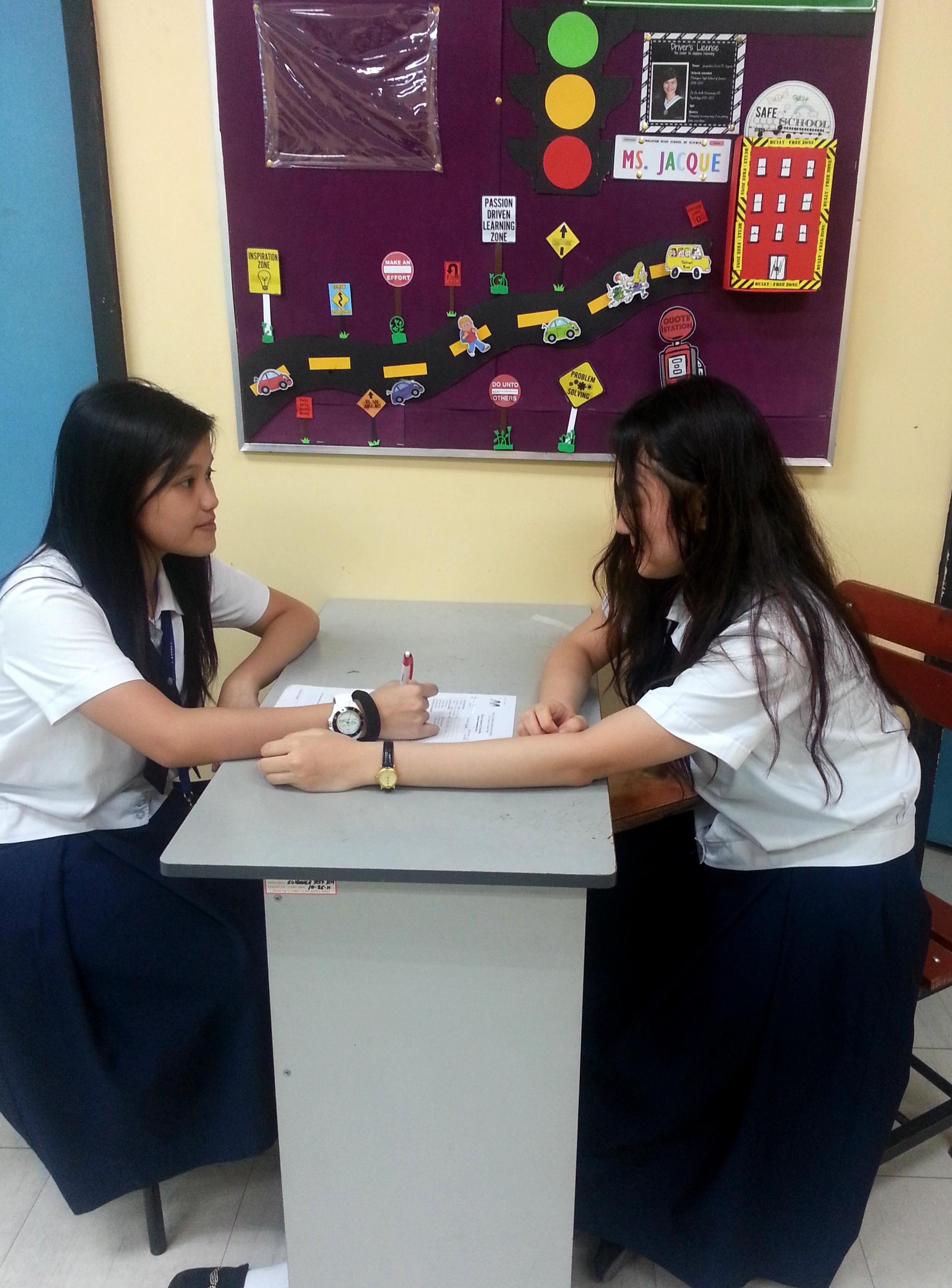 The Peer Counselors Club
Taking pride in responsibilities
Whizzy Works is the official student organ of MHSS: Malayan writers' place-to-be. The publication is released twice a year during the months of November and March. Members of the organization write about the developing school activities and the editors carefully handpick articles fit for publication.
Jose Miguel Kristian Pascua, editor-in-chief, takes pride in being a part of the Whizzy Works staff. "This is the only writing organization in the entire school. This is our pride. This is the only place where advocates of writing can thrive," he said.
Aside from publishing Whizzy, editors and writers attend journalism seminars and join writing competitions outside the school. This September, they will be attending a two-day journalism training-seminar with other high schools at the Philippine Normal University.
For Pascua, being a part of Whizzy Works entails responsibilities for one's growth as a person. "Organizations help one develop certain skills. There are more responsibilities; you're training for the future. I am thankful that I get to experience these," he ended.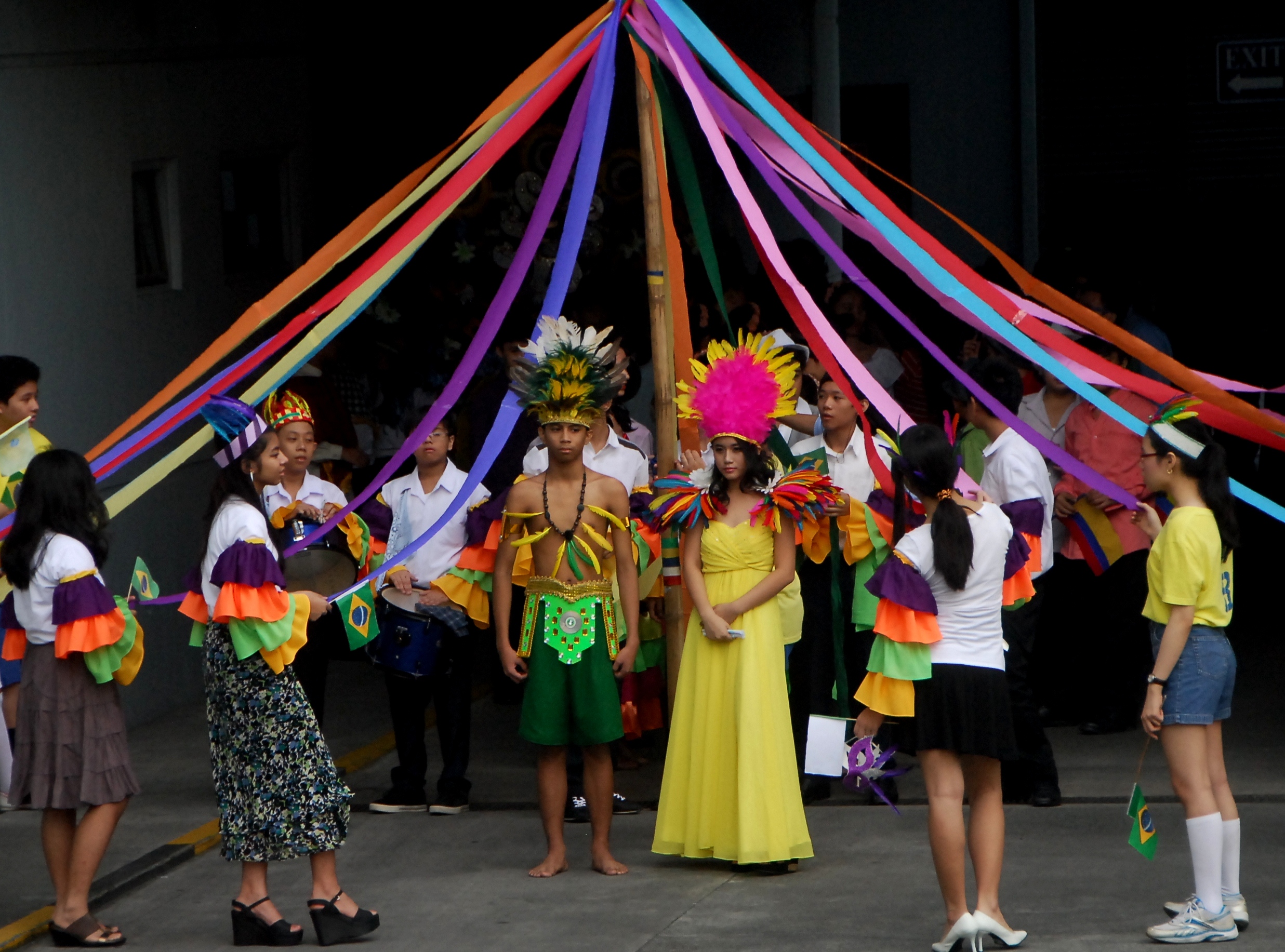 Students dress up as citizens of UN-member nations to celebrate Humanities Week.
Sports Org
To promote sports and to handle athletics-related activities of the school is the sole objective of the Sports Org. Guia Marie Cipriano, organization president, shares that the primary sports promoted by their group are NCAA sports (basketball, volleyball, archery, badminton, soccer, chess, taekwondo, lawn tennis, table tennis, and swimming). They want to train athletes to be able to compete well with other schools.
The president knows the boundary of sports and academics. She tells that, "I really like sports since grade school. For a student athlete, it is important to be able to manage your time and to prioritize."
Cipriano said that sports teach valuable lessons. For her, the virtues of discipline, humility, and self-control come in handy while playing sports.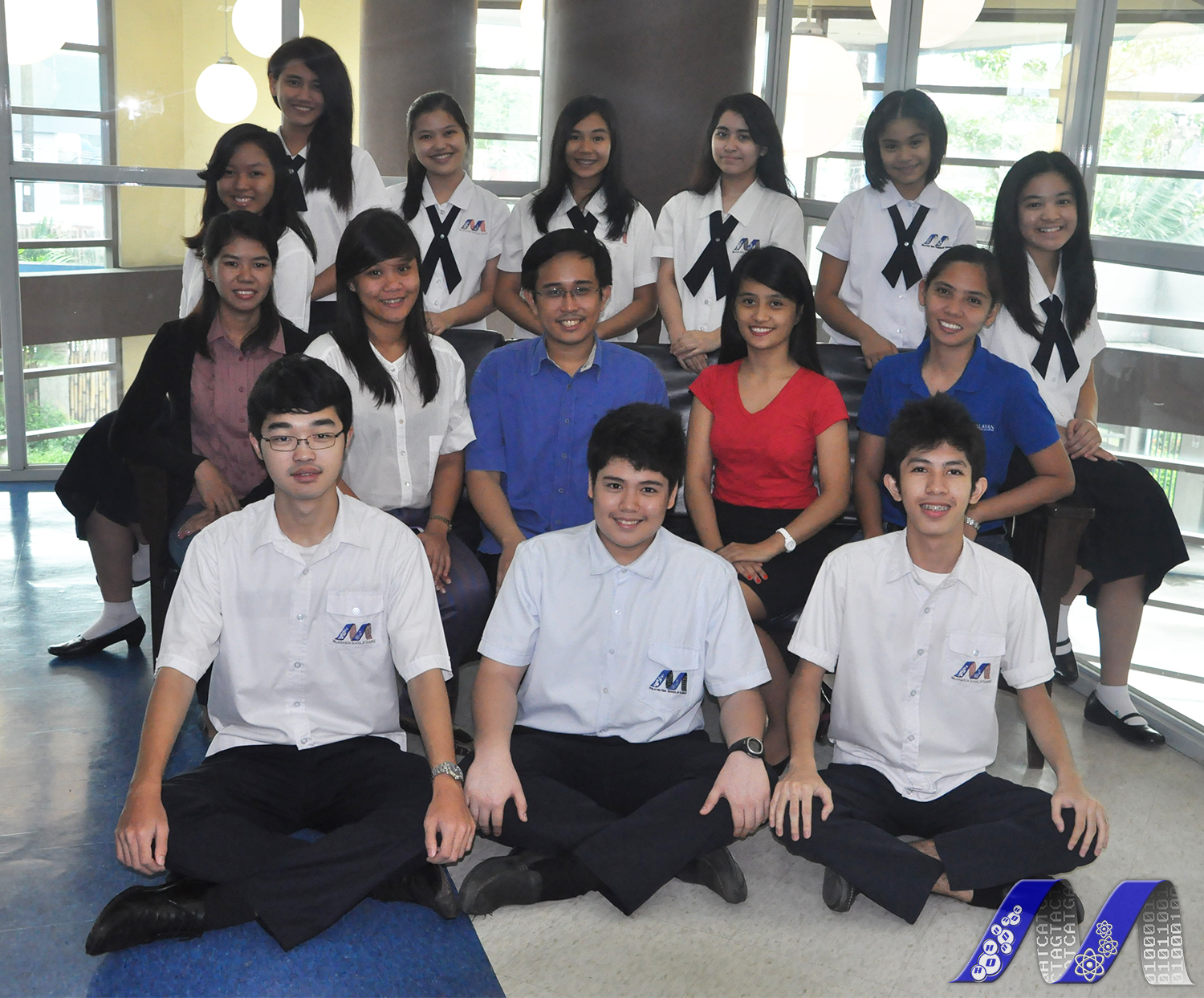 Organization presidents with advisers pose for a photo.
First Row, L-R: Se Won Park (Malayan Geographical Society); Jose Miguel Pascua (Whizzy Works); Ivan Pernia (Drop the Bass Dance Crew). Second Row, L-R: Jessica Leaño (Book Lovers Club); Jacqueline Vincit Saguin (Peer Counselors); Jamaico Ignacio (Malayan Geographical Society/ Student Activities Coordinator); Erika Gin Constantino (Whizzy Works); Khristine Sandoval (Eco-Warriors Club)
Third Row, L-R: Chelsea Leigh Tan (MaSciTech); Athalia Grace Millan (Book Lovers Club); Irisa Mae Miralles (Peer Counselors); Guia Marie Cipriano (Sports Org); Ysabelle Shivers (Supreme Student Government); Francesca Julianne Marquez (Eco-Warriors Club); Jacklynn Kyra Agnes (MusikaMalayan)