MHSS holds fourth parenting seminar; centers on the effects of media on youth
Wednesday, April 30, 2014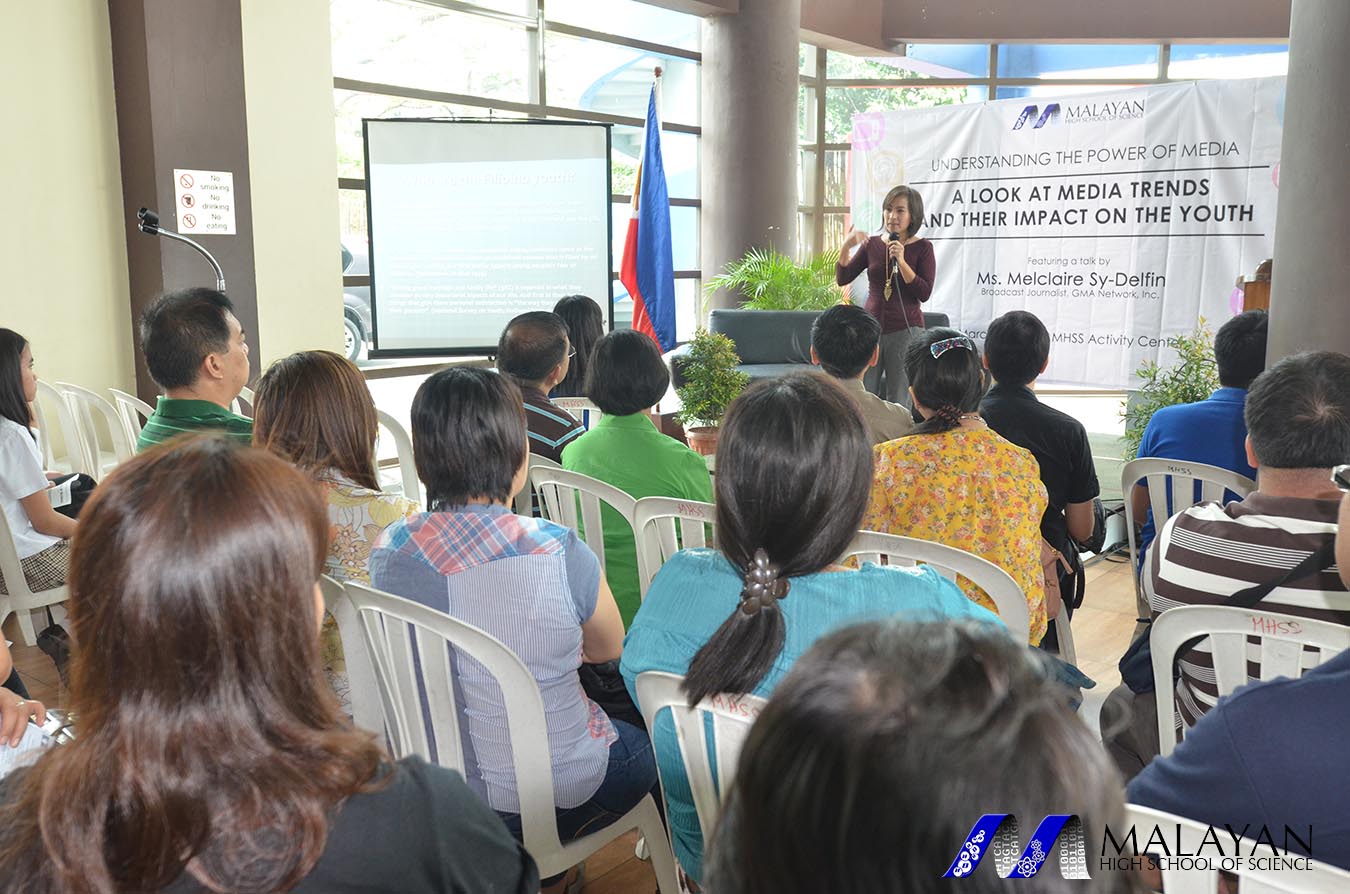 Malayan High School of Science's fourth parenting seminar entitled "Understanding the Power of Media: A Look at Media Trends and Their Impact on the Youth" discussed the effects of media on the developing minds of children.
As modern technology significantly improved the way people communicate and share information, expansion of knowledge has become fast and easy. However, together with this benefit, easy access to information through mass and social media also poses risk on children particularly on their psychological and moral development. Such issue was the center of discussion of Malayan High School of Science's recent fourth parenting seminar entitled "Understanding the Power of Media: A Look at Media Trends and Their Impact on the Youth."
GMA News broadcast journalist and the seminar's guest speaker Melclaire "Claire" Sy-Delfin has described the youth today as more media oriented than in the past decades.
"Teenagers now are more media oriented than ever. According to a survey by Walter Thompson on the media habits of Filipino teens, they are taking in more than 30 hours of media weekly," explained Delfin. "Our media habits have changed in the recent decades. In the 90s, the decade of FM radio, teens were just into alternative bands and music. Now, we are in the Internet age, wherein a lot of things are just a click away. There are now more opportunities as well as challenges for both parents and children."
Delfin advised parent attendees to be aware of the effects of media on the youth.
"Mass media has a significant effect on the youth, especially television. It is an effective source of information for high school students, who at their age have to be already socially aware. It is important that they know enough news and current information for them to know what is happening around them. This way, they are able to form their own perspective of life," explained Delfin.
However, Delfin also cautioned parents about its adverse impacts on children, pointing out that media cuts across all ages and not all of the information it gives are intended for children's consumption and emphasizing the need for parents to be able to guide kids to have a correct understanding of what they are hearing and seeing from media programs.
Now that social media has also become a major trend among teenagers, Delfin advised parents to widen their understanding of their children's culture while remaining to be vigilant about their safety.
"Social media is a big challenge for parents. Kids will always find a way to link themselves to various social media platforms. But it is the trend in their generation, and it is inevitable. We can't keep them away from it, lest they will be ostracized. What parents can do is to understand their children's culture. They must learn how to tap opportunities in social media while being continuously on the lookout for dangers," she said.
Media and the youth's psychology
The seminar featured a talk by GMA News broadcast journalist Melclaire "Claire" Sy-Delfin.
Together with the benefits of instant access to information is a risk that media can pose on the psychology of the youth.
"Media is beneficial to us. It gives us access to a huge amount of information to help us learn. But just like in other things, there should be a regulation on the use of the different media platforms, as there are information that can pollute the psyche," said Dr. Jonathan V. Macayan, psychologist and dean of Mapúa Institute of Technology's School of Languages, Humanities, and Social Sciences.
Dr. Macayan cited violence and sex as some of the most common issues that can easily influence young minds. Such influences can lead to behaviors in teens that are aggressive and that do not conform to ethical and moral standards.
Apart from establishment of regulations, for Ms. Gloria P. dela Merced-Josol, director of Mapúa's Center for Guidance and Counseling, the most effective way to prevent psychological and moral corruption of a child is to allow for the development of a critical mind.
"It is important that a child develops the ability of critical thinking. This is only possible through parental guidance. You watch TV or browse the Internet together, and when your child discovers something, there is an opportunity for you to ask what his insights or opinion is on his discovery," explained Josol.
She also added that this process also requires an environment that will encourage a child to open up his heart and share his thoughts to allow for a true open communication.
Building strong moral foundations
Delfin underscored the importance of building strong moral foundations in children for them to be able to make good decisions in life.
"At the end of the day, it is still about the values that we teach our kids. While our sons and daughters are still young, we should already teach them good values. It is the strong moral foundation they have that will allow them to discern right from wrong," she said.
She added: "As a parent, try your best to be one of the primary sources of information for your kids and to help them understand new information. This way, you can help your children widen their perspective, consequently allowing them to have an independent mind and to make choices that you can trust."
To this the parent attendees agreed.
"The speaker has summed up everything we should know about how we can protect our children from the negative impacts of media. All I can say is, as parents to our children, let us not forget what our role in their lives really is, and that is to be there for them when they need us the most. Despite what the media shows our children, what they will remember are the values we inculcated in them and the love that we gave them," shared Ms. Ma. Antonia G. Santos.
Principal Dr. Efren B. Mateo hopes that the seminar has helped parents understand more how they can utilize the power of media in rearing their children into becoming good individuals.
"Media can strongly influence minds, especially the minds of children, which are very receptive to ideas. It is important that we are able to utilize media to properly raise our kids. That has been the aim of this seminar," Dr. Mateo concluded.