Much more than resilience
Monday, April 21, 2014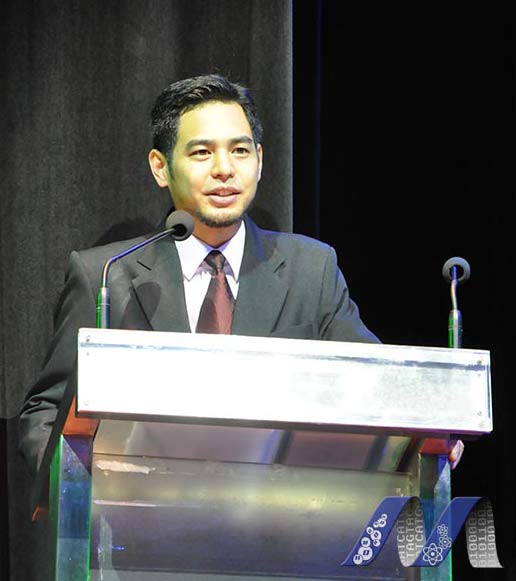 Dr. Francis N. C. Paraan
Dr. Francis N. C. Paraan was the guest of honor and speaker at Malayan High School of Science's 5th Commencement Exercises held last March 28 at the Carlos P. Romulo Auditorium of RCBC Plaza in Makati City.

Dr. Paraan was an oblation scholar at University of the Philippines Diliman and graduated summa cum laude in 2006 with a degree of Bachelor of Science in Applied Physics-Materials Concentration. He also earned the following degrees: Master of Science in Physics from UP Diliman in 2007; graduate diploma in Condensed Matter Physics from International Center for Theoretical Physics in Trieste, Italy, in 2008; and Master of Arts in Physics and Doctor of Philosophy in Physics from State University of New York at Stony Brook, New York, USA, in 2010 and 2012, respectively.

Currently, he is an assistant professor at UP Diliman and a program coordinator of the Structure and Dynamics Group of the National Institute of Physics at UP Diliman. He is also an associate member of the National Research Council of the Philippines and a member of Samahang Pisika ng Pilipinas.

Below is Dr. Paraan's full commencement speech.

Congratulations to this year's graduating batch of the Malayan High School of Science. And, please, a hearty round of applause to our proud families and friends who have supported them through the past years and who will continue to support them over the years to come.

"Resilience" is a word that we hear quite often nowadays. In the wake of national hardships the general impression of the world community of the Filipino spirit is one that is unshakeable, unsinkable, and indomitable. There is no question on the hardiness of the Filipino folk. However, here is the hook: resilience by itself is not a virtue. Over the course of history the human race has been tested by plagues, disasters, and wars; and yet we are all here today because the will to survive is hard-coded in human DNA. Resilience is only part of a package of qualities that make a culture distinct from others. My point being, that based on the barest definition of "resilient," we are not completely unique in our ability to weather storms. Furthermore, I do not feel that it is right that we congratulate someone who has been struck simply for continuing to stand, knowing full well that several others fell from the shock. And so, allow me to re-examine and expand our notion of "resilience" in a way that distinguishes a particular culture and to highlight why we must remain optimistic about the future of our nation.

The first quality that I want to add to this package that contains resilience is selfless compassion. When tragedy strikes, it must be part of our nature to immediately reach out to those who are stumbling. When I sat down with my students a few months ago, many of them wanted to reach out to help their fellow Filipinos displaced by the Zamboanga siege, Bohol earthquake, and Yolanda. These offers were all the more touching because I knew that some of them were also from Bohol and Cebu and that their own families were displaced. There are many more stories of compassion and selflessness to tell and I am sure that you have your own. Here is another one I found on Facebook: a man on a relief mission recounts:

"In Antequera, Bohol... When we offered to give relief packs to people living in tents by the road... They refused, and told us to give it to the people of Loon, for they need it more."

These reports of Filipinos giving to other Filipinos who have less than they have, even when they have little, gives plain "resilience" a nobility and warmth that everyone finds admirable. I hope that you keep these examples to heart when you become successful in the near future.

Another quality that I want to add to the mix is honest ingenuity or resourcefulness. In difficult times, people are pressured to make something out of nothing. Of course, one way of humans reacting to environmental stress is to simply lower our survival threshold. There are five of us and one fish: so we each have one-fifth of a fish. This situation reflects a kind of "resilience," but it is not the type that I had in mind this afternoon. Humans have the innate drive and ability to innovate and constantly improve the situation; and here I want to introduce the value of science and technology. Humans have learned to observe the patterns of nature (science) and use this knowledge to their advantage (technology). Using lamps to attract fish at twilight when they are feeding is a simple example of using science and technology to improve the daily catch. So we see in this simple example how much the one-fish-for-five-people-type of resilience differs from resilience coupled with ingenuity. Ingenuity is all the more important in a society where resources are little or hiding behind a wall of bureaucracy. I hear these sentiments all the time: "Wala pera. Only in the Philippines." Our country is a developing one, there is no doubt about that. But as its future leaders and managers we owe it to ourselves, our compatriots, and future generations to look for ways to improve the status quo with what we have. Ten years ago when I was a university student, a professor asked one of my classmates to look for an eraser for the board. The student left and came back after a few minutes with nothing. The professor then left the room and returned with a crumpled piece of tissue paper and proceeded to erase the board with it. He told us then when we are asked to do something we should always come back with results: no excuses. And so this is a lesson and a challenge that we should never forget: with many people relying on our ability to deliver (sometimes with their lives) we will be pushed to come up with honest, creative, and effective solutions. When you continue on in a science or engineering course, you will be trained to be a future problem solver, which is a very important role in nation building.

The final quality I would like to emphasize is being "maagap," which I would translate as forward-looking. A resilient person can survive today, but to truly make a difference we have to apply the lessons learned today to address potential problems in the future. The small-scale patchwork innovations we make to address the short-term must evolve into a robust large-scale solution that is future-proof. An effective leader does not ask "How does one travel from Cavite to Buendia in the shortest time possible?", but instead asks "How do we transport 2,000,000 people between Metro Manila's periphery and its center every work day in the least amount of time, with as little expense per capita, and with the smallest impact to the environment as possible?" For me this aspect of thinking big is the most complicated addition to the concept of resilience that I am presenting today because it requires a lot of careful thought.

My students have actively supported a small grassroots initiative in Bantayan Island in northern Cebu. It is called "Bantayan Back to Sea Project." You can find it through Google. Well, last November, shortly after Yolanda, this project started out as a loose affiliation of business owners in Bantayan. They started out with fund-raising initiatives to rebuild and repair bangkas for the local fisherfolk. Yolanda destroyed thousands of boats across several provinces. Back to Sea and several other groups like it were able to deliver dozens of boats to identified barangays by yearend. However, this group of heroes did not stop with last December's delivery, because they were in it for the long haul. They expanded their donor base to Manila and around the world. They launched livelihood programs that trained residents in seaweed farming, handicraft making, boat building, and other alternative sources of income when the catch is slow. Manual carpentry gave way to construction methods with a higher throughput. One group, called Bangka Relief, produced boat-building kits that allowed modular boat assembly on-site. (It is much easier to transport these kits to beneficiary barangays than to transport assembled boats.) In a few short months, a group that started out as a handful of people has produced hundreds of boats and empowered several communities. The project soon caught the attention of celebrities and national officials and it looks like they will be able to expand operations to other sites soon. It is not even half a year and this group that started out with very little is building infrastructure and models for a sustainable local economy. This story of success is one that I wish upon each one of you, the future scientists, engineers, and managers of the Philippines.

As I end this address, I would like to recap some of the key ideas I have shared. It is not enough that we simply survive hardships as a nation. If this were so, we would be a country of survivors living day to day from disaster to disaster. I believe that we must be more than survivors. We must be overcome and come back harder, better, stronger, and faster. We must be a resilient people that is also selfless and compassionate. We must be a resilient and ingenious people that can come up with scientific solutions to problems. And, finally, we must be a resilient people that can think big and act with sustainability in mind.

Maraming salamat po at mabuhay tayong lahat.