MHSS to hold parenting seminar on effects of media on youth
Wednesday, March 5, 2014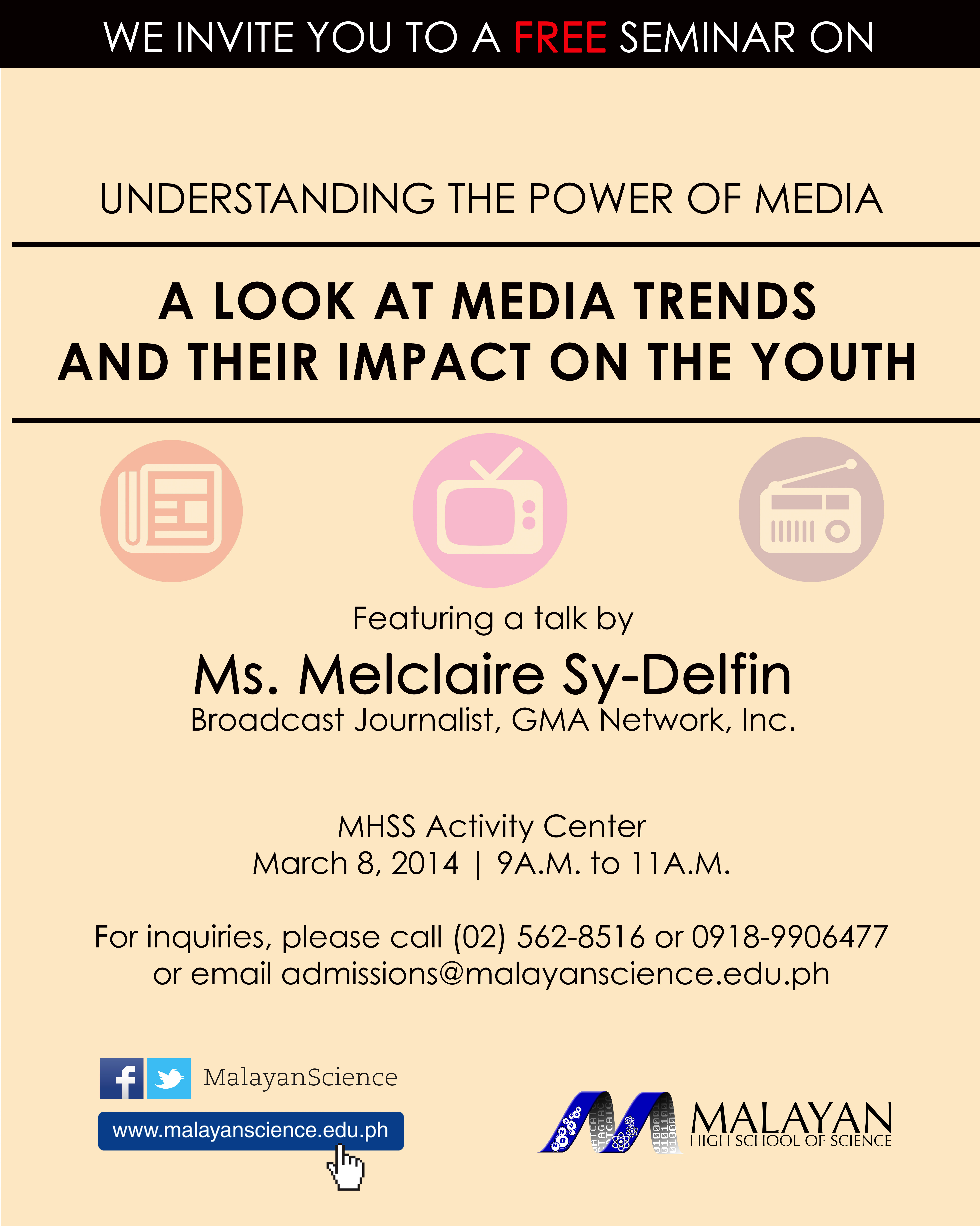 Malayan High School of Science (MHSS) is set to hold its fourth parenting seminar entitled "Understanding the Power of Media: A Look at Media Trends and Their Impact on the Youth" on March 8. The seminar aims to help parents learn more of their role in educating their children to uphold moral values despite the strong influence of media further amplified by modern technology.

For MHSS principal Dr. Efren B. Mateo, media has immense power to shape the minds of the people, particularly of the youth, creating consciousness of different ideas and issues that easily impact thinking and behavior.

"Media can strongly influence our minds and behavior. With the minds of the teenagers being highly receptive to new ideas, both good and bad, it is important to guard them from negative influences. This seminar will help parents guide their children in utilizing media to gain more knowledge while ensuring their moral development," says Dr. Mateo.

The seminar will feature a talk by GMA News broadcast journalist Claire Delfin. She will discuss what broadcast journalism is and how important it is in molding perception and in nation building.

"The youth now is very media-oriented. We need to connect with them and give information that connects with their lives. They are our future leaders, and it is very important that the information we relay may help them understand the realities of life," says Delfin.

Delfin adds that her talk will help the audience know how to respond to different issues and to become more responsible citizens with the new knowledge that they gain from media.

MHSS's "Understanding the Power of Media: A Look at Media Trends and Their Impact on the Youth" seminar will be held on March 8, Saturday, 9 a.m. to 11 a.m., at the school's Activity Center. It is open to public. For inquiries and slot reservation, please call (02) 562-8516 or 0918-9906477 or email admissions@malayanscience.edu.ph.