MHSS student athlete bags bronze in international archery competition
Monday, November 18, 2013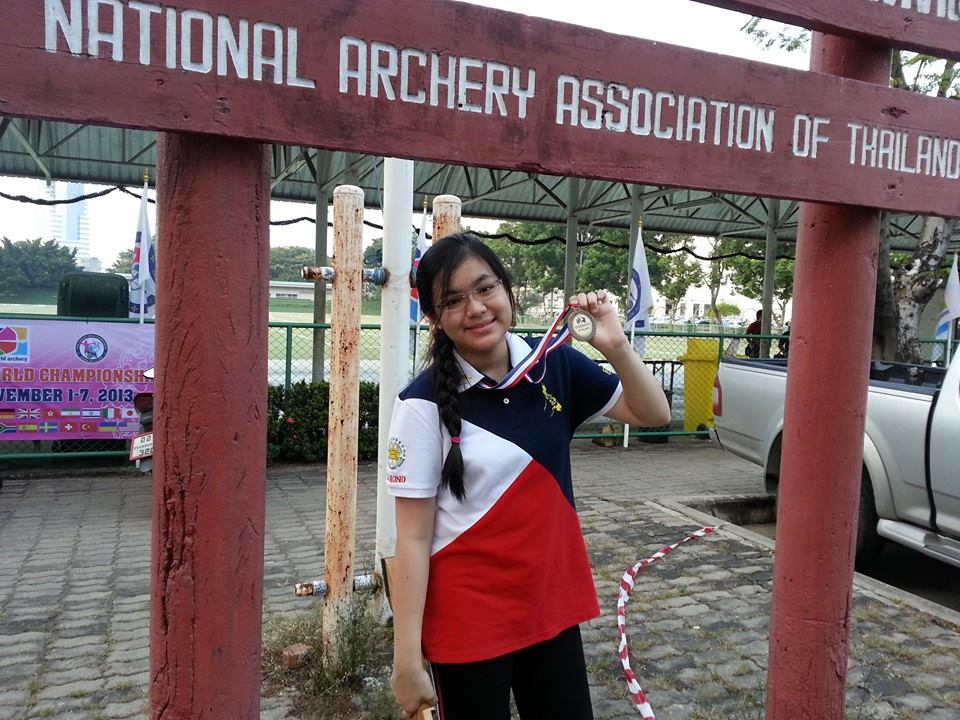 Gabrielle Canono wins the Bronze medal at the Bangkok-Manila Archery Friendship Cup, her very first achievement in archery competition.
Seventh grader Gabrielle G. Canono added a bronze medal to Malayan High School of Science's (MHSS) medal collection after winning at the Bangkok-Manila Archery Friendship Cup held in Bangkok, Thailand, last October 27, proving that the school's tradition of excellence goes beyond academics.

Canono, a member of the Manila Archers Center, is among the five Filipino students who won in the friendly cup, which united 17 Filipino and Thai archers. She is under the tutelage of Coach Jeff Tsang Bosales, the resident archery coach of MHSS and Manila Archers Center.

A first-timer in an archery competition, the 13-year-old athlete shared that her victory is an unexpected achievement.

Compared with her Thai competitors, Gabie had limited time to practice. She started training last summer and practiced only two to three times a week. Another challenge she had to overcome was the summer heat in Thailand, which was so intense.

Her sheer determination, however, secured Gabie her first win in archery. These challenges prompted her to focus more and bring her A-game during the competition. Likewise, the unrelenting support from her family, friends, and MHSS helped her in finishing the two rounds of elimination in the 15-meter category.

"I wanted to prove to myself that I could be a good archer. My family, friends, and MHSS were very supportive. They would always cheer for me and give me tips on how I could do better during the competition," she said. "MHSS taught me to strive for excellence not only in my studies but in other areas like archery."

Canono's passion towards the sport also gave her a better outlook in achieving her life goals. "I enjoyed the whole competition. It was fun meeting new people, and competing against another country is a humbling experience," she said. "Archery helped me develop discipline and confidence."

MHSS Principal Dr. Efren B. Mateo expressed pride in this new feat. "Gabie's victory in this international competition affirms our goal of working for the holistic development of our students. Her success is an indication that we are achieving our mission of developing not only the mental capacities of our students, but also all the other aspects of their human development. We're very happy for her."

In addition to doing archery, Gabie also paints and draws. She has sold a number of her masterpieces and dreams of becoming an artist in the future. She also consistently belongs to her class's cream of the crop.