MHSS's Safe School Program series now on its third anti-bullying seminar-workshop
Monday, November 11, 2013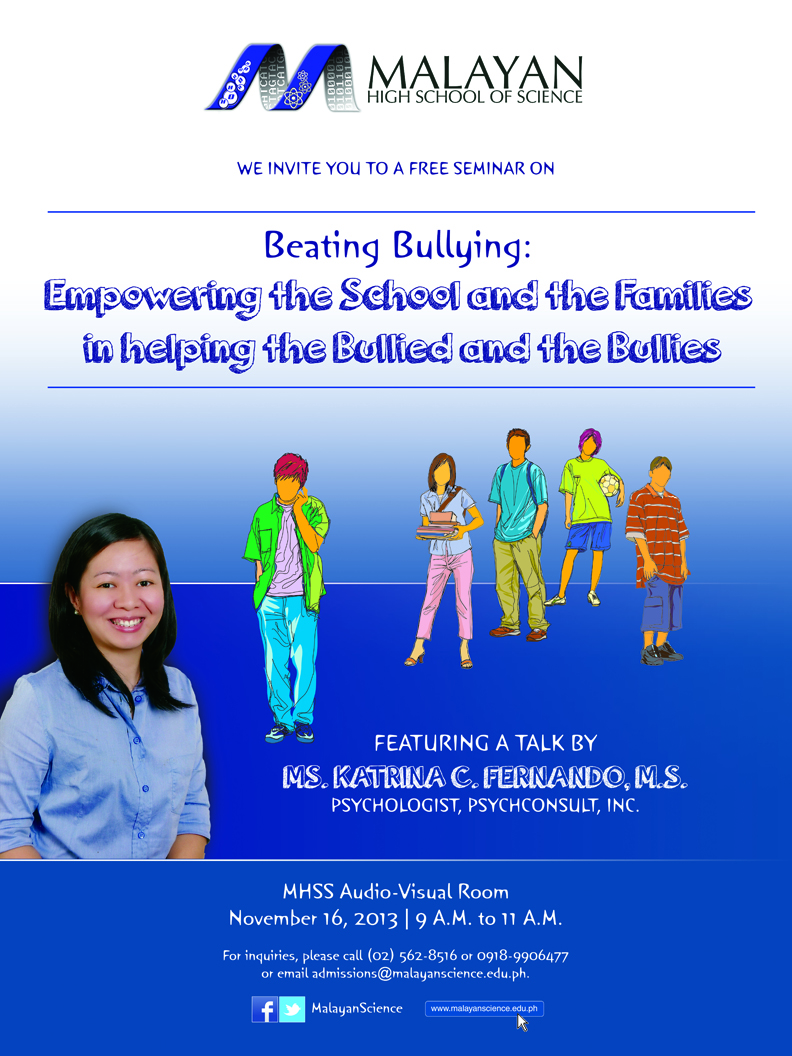 Malayan High School of Science (MHSS) will hold the third seminar-workshop of its anti-bullying series under its Safe School Program, "Beating Bullying: Empowering the School and the Families in Helping the Bullied and the Bullies," on November 16, 2013.

Guest speaker Katrina C. Fernando, an assessment psychologist at PsychConsult, Inc., and a member of the faculty of the Psychology Department of De La Salle University's College of Liberal Arts, says the seminar-workshop will allow attendees, parents and children, to look into the cycle of bullying and to understand the experiences of the people involved in the cycle.

"This is about bullying at school and about understanding the experiences of the bullied, the bullies, and even the bystanders. This gives emphasis on how the members of the school and the family can help not just the bullied but also the bully," explains Fernando.

Fernando's talk aims to increase attendees' awareness of the problem of bullying among teens – its different forms and manifestations, the factors that lead to it, and its impact on the victim, the bully, the bystanders, and the family.

"Bullying is not just one person's problem. The bully, the family members of the people involved, and the witnesses to the act of bullying get affected as well. This seminar-workshop aims to empower the members of the community, in their own ways, to help in detecting, preventing, and stopping bullying," she said.

Fernando's talk will be followed by exciting activities that parents and children can participate in.

MHSS's third anti-bullying seminar-workshop signifies the school's commitment to providing a safe learning environment for the Filipino youth.

"Our Safe School Program emphasizes the importance of creating an environment that nurtures and supports the development of our students. We strive to build a community that molds its members into becoming not just intellectually brilliant individuals but into citizens of brilliant characters as well. Our seminars, lectures, and workshops, together with other activities we have held in the past and planning to organize in the future, are a sign of our commitment to achieving that goal," says principal Dr. Efren B. Mateo.

MHSS's "Beating Bullying: Empowering the School and the Families in Helping the Bullied and the Bullies" will be held on November 16, 9 a.m. to 11 a.m. It is open to public, and registration is free. For inquiries and slot reservations, please call (02) 562-8516 or 0918-9906477, or email admissions@malayanscience.edu.ph.