MHSS Valedictorian Carl Roma, ideal student, son
Friday, August 23, 2013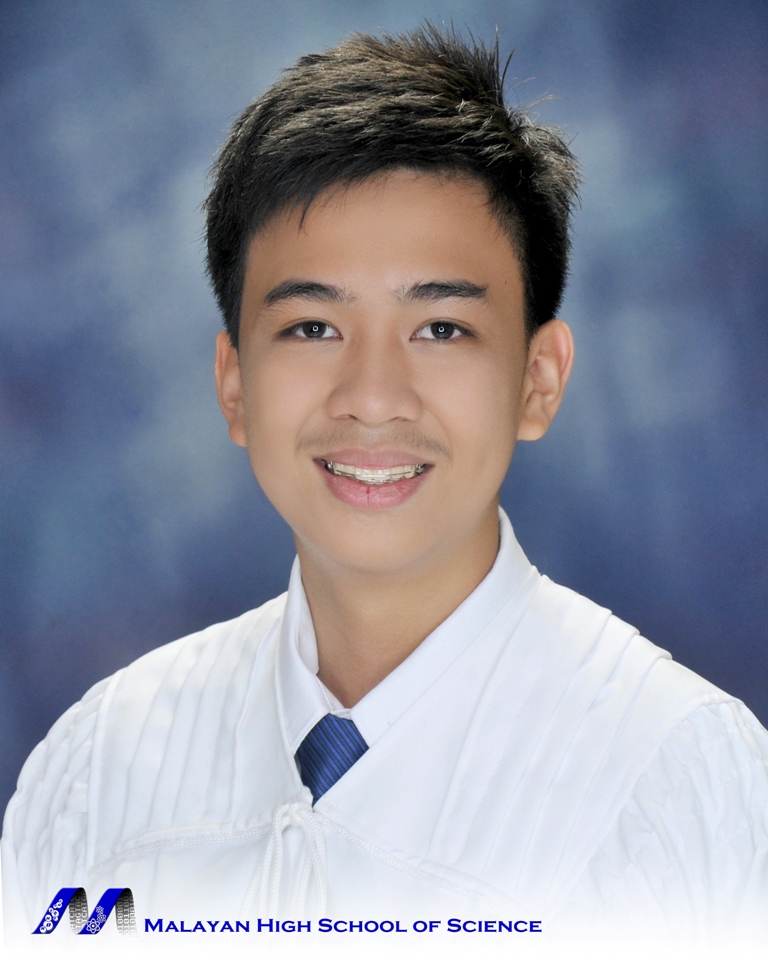 Malayan High School of Science 2013 Valedictorian Carl Adrian Roma.
For exhibiting self-discipline and setting a good example to the youth, Malayan High School of Science (MHSS) Class of 2013 valedictorian Carl Adrian Roma was given this year the Alfonso Yuchengco Foundation (AYF) Award for National Discipline.

The 16-year-old said he feels honored to receive the award, but he also knows that it requires him to be more responsible.

"It is an honor to be a good example to the youth. Receiving the award, however, meant that I should improve myself more to become a better role model to others. I will strive to show discipline, excellence, commitment, integrity, and responsibility in all of my thoughts, actions, and words," he said.

Carl, as he is fondly called by his family and friends, was one of the high school students from different schools who were given the recognition. The other awardees were students from the Manila Science High School, Muntinlupa National High School, Lourdes School of Quezon City, Makati Science High School, and Saint Anthony School, among others.

The National Discipline Award is a program of the AYF, the social arm of the Yuchengco Group of Companies, that seeks to inspire the Filipino youth to lead lives that show strength of character and concern for others.

Carl vowed to remain a good example to the youth "by acting as a responsible and disciplined citizen." He has proven over time that discipline, along with determination and hard work, is the key to success.

In his four years of stay at MHSS, he has actively participated in curricular and extra-curricular activities and he has bagged various awards and recognitions.

He said: "It felt very rewarding, knowing that all my studying during the summer and my parents' efforts had paid off."

Carl, an aspiring medical doctor, is currently taking up B.S. Biology at the University of the Philippines in Diliman, Quezon City. This Iskolar ng Bayan dreams of developing treatments and cures for various diseases.

"I aspire to become a doctor and, in the future, I plan to do medical missions to remote areas in the country to help those who cannot afford medical attention and help develop treatments and cures for various diseases. I believe that biology is a nice pre-medicine course," Carl said.

Carl has also qualified in the university's Integrated Liberal Arts and Medicine (Intarmed) program, a seven-year program offered to select passers of the University of the Philippines College Admission Test (UPCAT). The program shortens the period of medical education by two years.

According to him, passing UPCAT and the Intarmed program was a blessing as it surely lessened the strain on his parents' financial obligations.

Aside from Carl's impressive academic performance, one of his admirable characteristics is the way he values people around him. He sees the importance of keeping relationships and recognizes that if not because of his family and friends, success is not as sweeter.

"My family motivates me the most to do well in my studies. I want to help them have a brighter future. Likewise, my friends inspire me to go to school every day. Knowing that I have friends who are willing to help out and support me makes school life more enjoyable," Carl shared.

To pay them back, Carl makes sure to give them enough quality time and not miss any bonding opportunities.

With all his achievements, Carl never forgets to thank his family and friends for being his inspiration. He is also grateful to MHSS for equipping him not only with the knowledge but with the right attitude and values.