MHSS holds 3rd Parenting Seminar; centers on teen rearing
Thursday, May 16, 2013
Resource speaker psychologist Maria Andrea S. Tirazona advises parents on how they can properly deal with their children's adolescent concerns, helping their kids establish their own identities as well as strengthen family ties during MHSS's 3rd Parenting Seminar.
One's road to personal success starts at home. This was the message sent out to parents during Malayan High School of Science's (MHSS) parenting seminar "Building Healthy Family Relationships: Key to Child's Individuality Development and Personal Success" held in the school's activity hall last March.

Emphasizing how healthy family relationships encourage a child's optimum growth and development, keynote speaker Maria Andrea S. Tirazona's talk aimed to help parents understand better their children particularly the teenagers.

In her talk entitled "The Tie That Binds: Building Family Ties That Go Beyond Individual Differences and Family Conflict," Tirazona, a psychologist at PsychConsult, Inc., a lecturer at the Psychology Department of De La Salle University, and a former consultant of Playschool International, allowed her audience to take a peek into the crucial stage of development that is adolescence.

"Adolescence is a period of major transition, which could be very challenging and complicated," she said.

As an adolescent undergoes changes in the different aspects of his life, he may experience confusion and anxiety, which may manifest as anger, rebellion, depression, and other types of feelings.

"Sometimes, adolescents don't know how to verbalize their emotions, so they just act it out," explained Tirazona.

Tirazona also pointed out that it is in this stage that a child establishes his own identity, which could result in changes in his priorities and preferences as well as in his engagement in risk-taking activities like drinking, smoking, and sex, among others.

To avoid the rise of family conflict, Tirazona advised parents to establish good communication with their children. Communication is the tie that binds family together, allowing for the development of a child's identity and future success.

"It is important to understand the adolescents from their point of view… [Communication] helps them feel they are being heard. It should be filled with words of affirmation and words that will cause a more positive perception of self."

She added: "It is also important for parents to be able to embrace individual differences. They have to recognize that their children's needs, personalities, and concerns will always be different."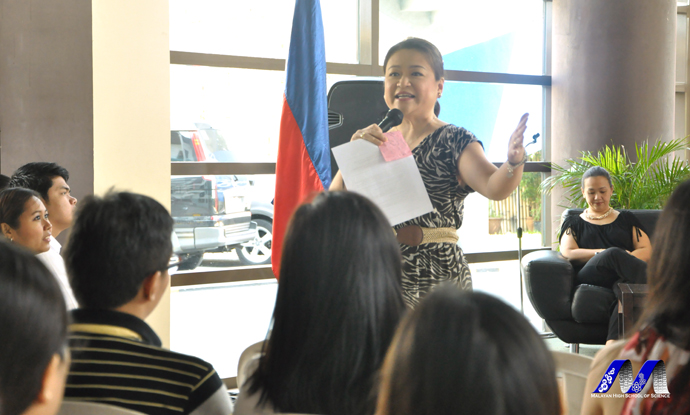 Guest speaker Winnie Cordero shares her parenting experiences with the audience.
Gracing the activity was renowned TV and radio personality Winnie Cordero to give some of her insights on parenting with the attendees.

She began by asking, "Who among here can really say that he or she is a good parent? What proof do we have to say that we have been good parents?"

Concurring with Tirazona, Cordero shared that part of good parenting is to learn from one's child.

"Everything I know about parenting comes from my own experiences, from the lessons I got from my parents, and from professional advice from the likes of Miss Ria," Cordero said. "Equally important are the lessons that you get from your own children. We also have to listen to our kids. They give us a different perspective of the changing times. There are times when children know better."

"Building Healthy Family Relationships: Key to Child's Individuality Development and Personal Success" was the third of MHSS's annual parenting seminars that have been designed to help parents further improve their parenting skills and contribute in the Malayan community's efforts in raising the next generation of nation builders.

"This year's seminar has been very informative. The speakers were able to clearly discuss all the concerns that surround the stage of adolescence," commented Myrna Felisa Bautista, mother of a recent graduate of MHSS who attended the event.

For principal Dr. Efren B. Mateo, the annual parenting seminar is not just a learning opportunity but a cooperation between the school's administration and the parents of its students.

"Parenting is really a challenging task, and it only gets more challenging as kids grow older. The teenage years are one of the major turning points in a person's life. So here at MHSS, we are working hand in hand with our Parent Council in rearing our students, allowing them to become aware of themselves, their strengths and gifts, for them to become the best that they can be," Dr. Mateo concluded.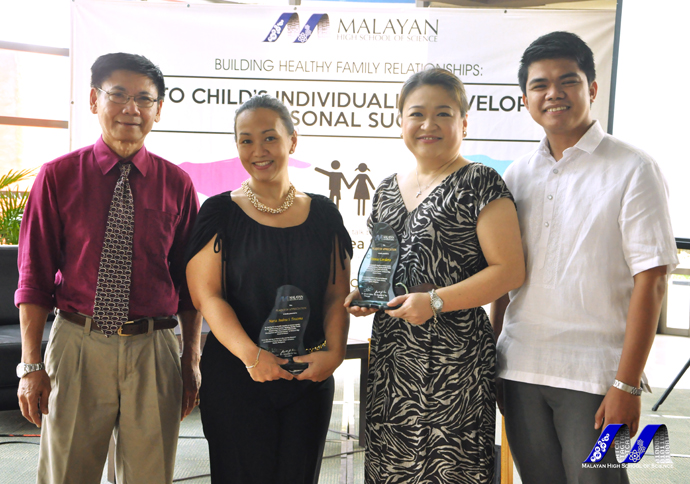 From left: MHSS principal Dr. Efren B. Mateo, Maria Andrea S. Tirazona, Winnie Cordero, and MHSS administrative officer Ferdinand R. Geronimo