MHSS holds free skin clinic for Pandacan residents
Friday, January 4, 2013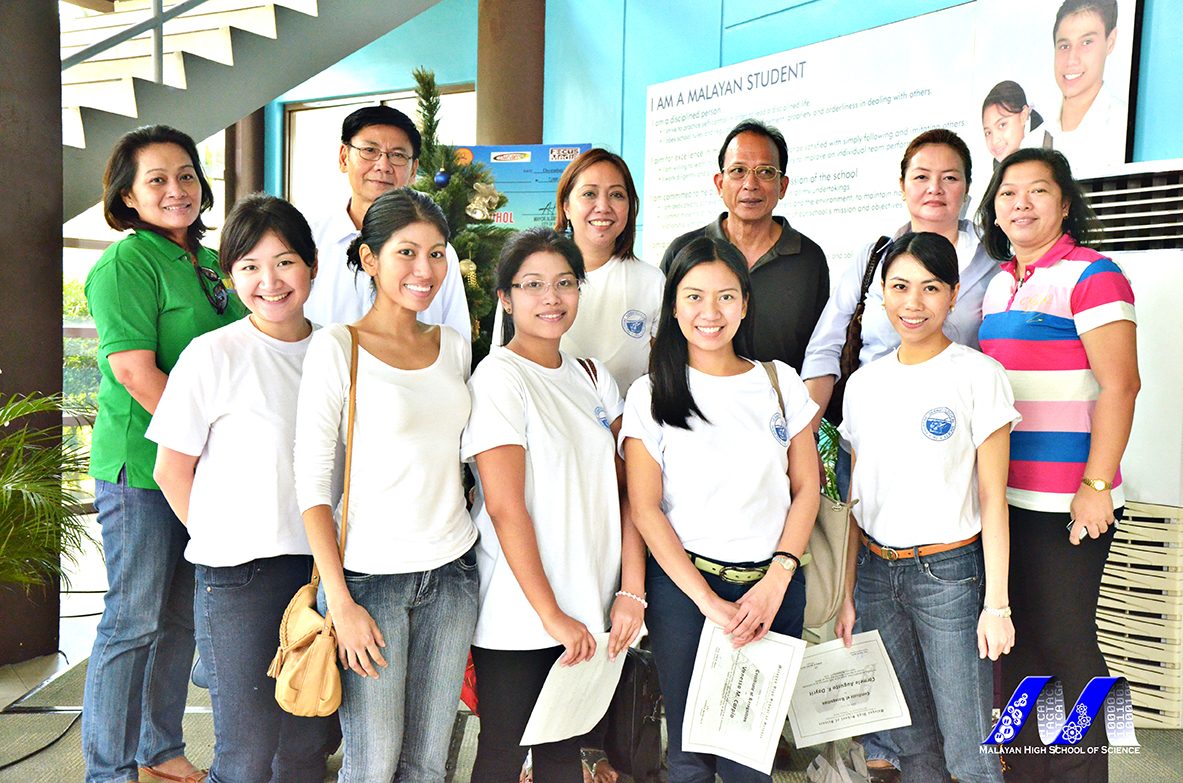 The volunteer dermatologists from the Philippine General Hospital (front row) together with Malayan High School of Science principal Dr. Efren B. Mateo (back, second from left), Parent Council past president Dr. Belen L. Dofitas (back, third from left), and some members of the Parent Council. (Back, L-R: Winnie Ragudo, Ronnie Mina, Owen Yap, and Lizel Bautista)
Malayan High School of Science (MHSS), in partnership with the Philippine Dermatological Society (PDS) and the MHSS Parent Council, held the MHSS Skin Health Day last November 17. Serving not only the Malayan community but also the entire community of Pandacan, Manila, the outreach activity aimed to raise awareness about skin health in line with PDS's celebration of the National Skin Disease Detection and Prevention Week or National Skin Week.

"This is primarily a project of PDS. Every November, PDS celebrates the National Skin Week, and it sponsors free clinics around the Philippines," explained Dr. Belen L. Dofitas, formerly the president of the MHSS Parent Council, a PDS member, and the main organizer of the event. "I thought that maybe we at MHSS could partner with PDS to serve further the community, and so we did. In 2011, we began our annual Skin Health Day."

Services offered during the activity included free consultations with volunteer dermatologists from the Philippine General Hospital and lectures on proper skin care and common skin diseases. Free medications sponsored by PDS were also distributed by volunteers from the school and the Parent Council. A total of 76 patients were helped.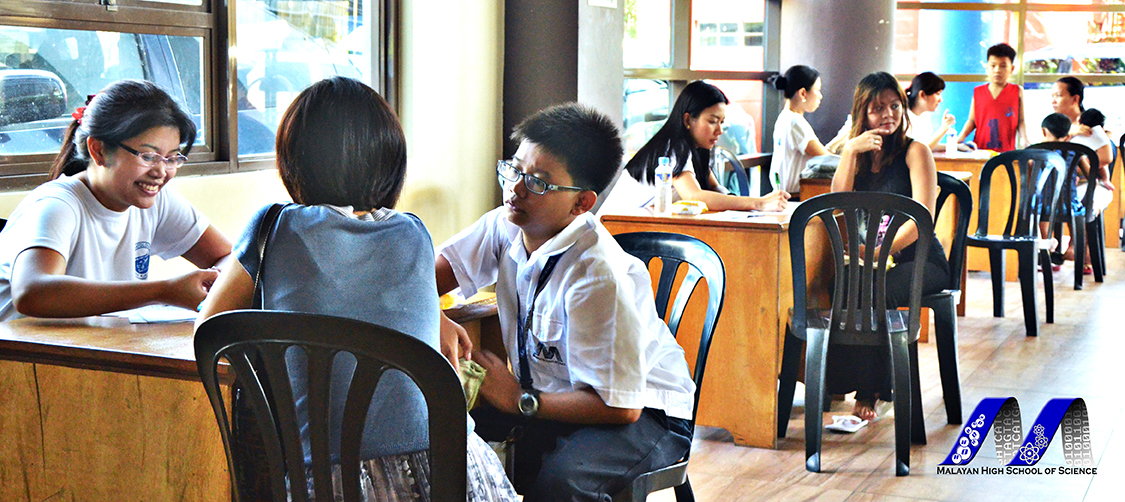 MHSS students and their parents and the residents of Pandacan, Manila, consult the volunteer dermatologists from the Philippine General Hospital.
According to Dofitas, the country's tropical climate makes Filipinos more prone to skin diseases.
"Since we are in a tropical country, we are more prone to skin problems due to the heat and sweat, and fungi and bacteria grow faster in hot and wet conditions. But apart from these, we also have what we call eczemas and infestations like scabies and head lice."
For teenagers, she cited acne vulgaris as the most common skin problem followed by skin infections (bacterial, viral, or fungal) like pityriasis versicolor (an-an) and athlete's foot, which could be due to their very active lifestyle.
Although skin concerns are very common, they are preventable with the right information and by developing the right attitude toward skin health.
"We are here for health information because that's really one of the best ways to prevent skin diseases apart from proper skin care. And just like with any other disease, it is important for people to consult a doctor if they are suffering from these skin problems. We want to improve the attitude of people about their skin, that it's not to be neglected. It's our primary protection; therefore, we should take care of our skin," said Dofitas.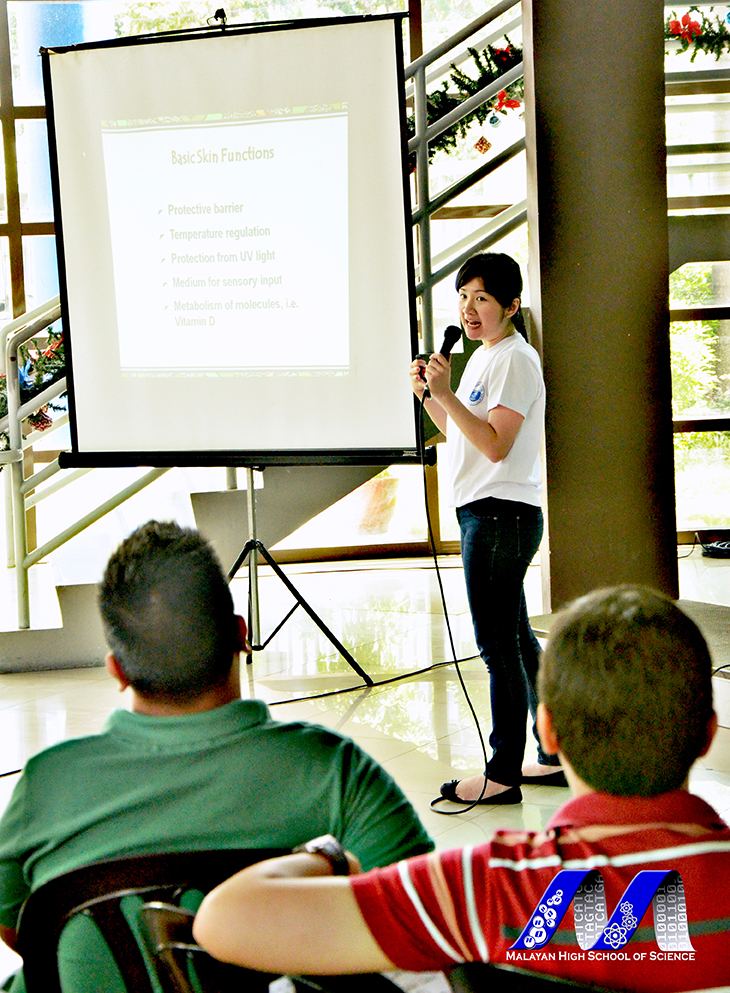 A volunteer dermatologist gives a lecture on the functions of the skin, proper skin care, and different skin problems.
Yolanda Torres, mother of a third year student at MHSS, commended the school and the Parent Council for organizing activities that also address the needs of the community.
"The Skin Health Day is a huge help to the people of Pandacan. Consultations with dermatologists in hospitals could be really expensive for most people, and this activity has just made skin health care accessible for them."
Part of its holistic approach to developing the youth, MHSS has been organizing events and projects that will not only solve problems in its own community but will also allow it to be part of the solution to some of the pressing concerns in the country.
"Our outreach programs are a very essential part of the education we provide our students. We are always after the overall well-being of our students, and events like the Skin Health Day not only teach them how to take care of their skin and themselves better but also allow them to extend help to the less fortunate," said principal Dr. Efren B. Mateo."Opportunities like this make them more sensitive to the needs of the community, developing them socially. And as they intend to excel in their respective fields in the future, we are very confident that they will be responsible for the betterment of their own communities."
"The Skin Health Day is a way for the Malayan community, especially the students, to be in a service activity so that they get used to the idea that we are here to also help others. One of the purposes of the Parent Council is actually to add activities to our children's lives that will enrich them in a sense that they know there is more to life than just going to school, that there are things that we can do for the community," Dofitas concluded.