Q&A: Enjerico Diego and Justin Serrano, 2012 NCAA outstanding junior basketball athletes
Wednesday, January 2, 2013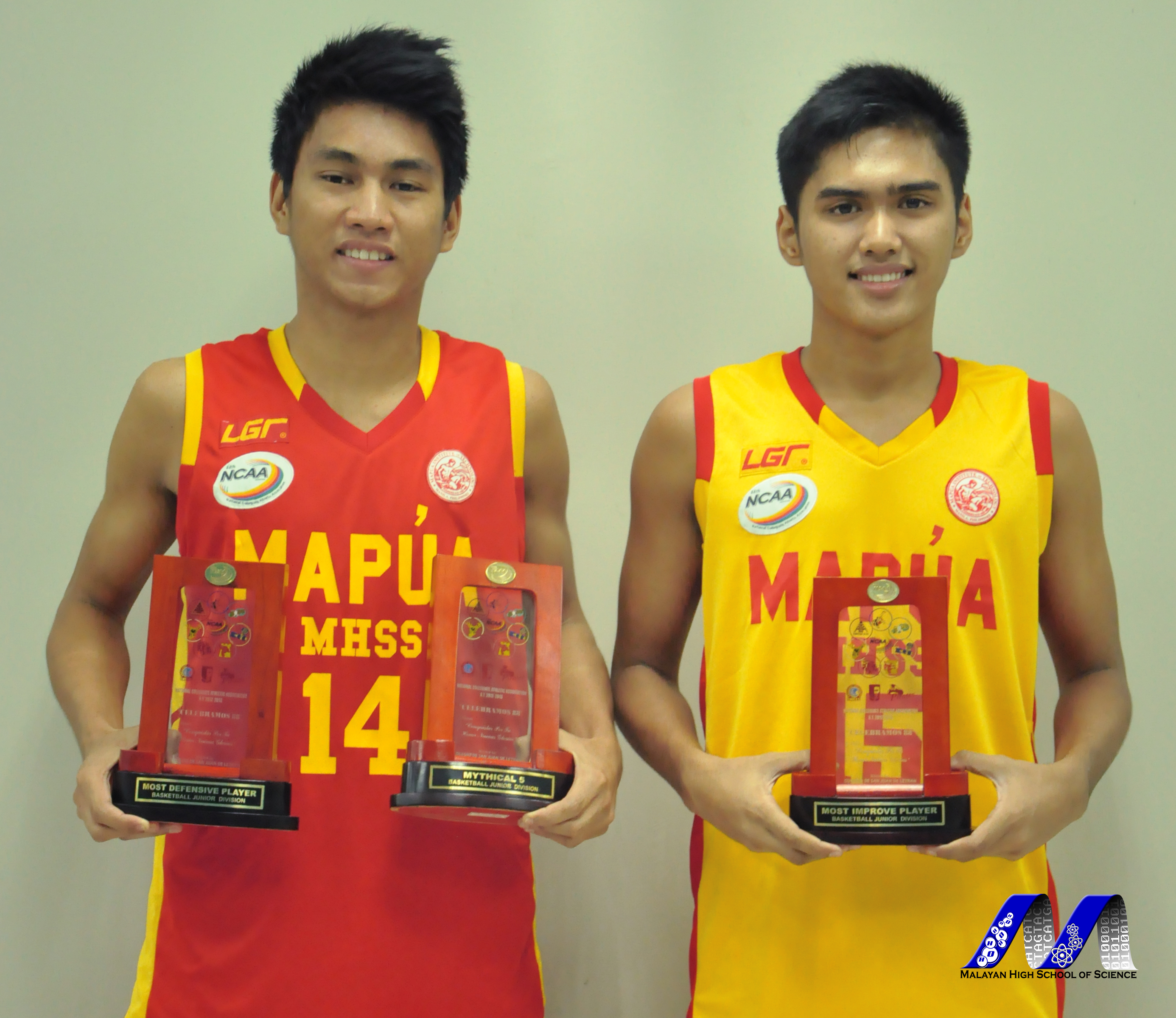 Red Robins Enjerico John Diego (left), NCAA Mythical 5 and Most Defensive Player, and Justin Oliver Serrano, Most Improved Player.
Malayan High School of Science's basketball team, Red Robins, has been a formidable force in the Juniors Division of the National Collegiate Athletic Association (NCAA) Basketball Tournament. These young cagers gave some of the most impressive and memorable games of the last season, making them one of the most promising athletes to look forward to. And as the 88th Season came to a close last September, two of its members were recognized for their outstanding performance.

Although both were surprised and doubtful upon hearing the news, Enjerico John J. Diego, 6'4", center/forward, part of the NCAA Mythical 5 and Most Defensive Player, and Justin Oliver M. Serrano, 6'2", forward, NCAA Most Improved Player, knew how much they worked hard for every match in the league.

"We were so serious about the tournament. Almost all of our free time during the entire season was dedicated to our practice, which was every day," said Serrano. "We really wanted to do better than we did last year."

Like in the previous seasons of the NCAA, the Red Robins dealt with so much pressure this year. Having a big goal in mind required them to be in tip-top shape all the time.

"We had to keep our focus, especially when we were battling for a spot in the Top Four. The everyday practice was really exhausting, but we had to improve and outdo ourselves every time. We have to give our best in every game," said Diego.

Such passion and determination has made Diego and Serrano stand out and win games not only in the NCAA but also in other sporting events and competitions in and out of the country.

Separately, Diego and Serrano played for teams that won in major Philippine basketball leagues, formed part of national teams that competed in Asian games, and got selected to participate in basketball camps organized by the premier international basketball league.

Get to know more of these athletes with some of the facts about them in the following Q&A.

How did your love for basketball begin and when did you start training as competitive players?

Jeric:  My family introduced me to basketball. My grandfathers played before. It was their hobby. When I was a kid, I played and started joining leagues in the barangay. My proper training began only after I transferred at MHSS in 2010, under coach Randy Alcantara.

Justin: It was also my family who introduced me to the sport. It has been their favorite. My grandfather was so into it. He coached several teams in Pampanga and would bring to his every game to watch. Eventually, I started liking basketball, getting familiar with the moves and learning the technicalities. My proper training started when I was in Grade 5 under Coach Randy as well.

Is it really your dream to play basketball professionally someday?

Jeric/Justin: Yes.

Who are you looking up to among the basketball stars in the PBA or NBA?

Jeric: In the PBA, I really admire Benjie Paras. I like his moves. In the NBA, Dwight Howard is my idol.

Justin: Of course, James Yap in the PBA. From the NBA, it's Hakeem Olajuwon.

When you started training under Coach Randy, were you already good players?

Justin: No. There were so many things that I still had to learn. Coach Randy guided me, taught me how to shoot and dribble the ball properly and also to keep the ball from the opposing team.

Jeric: What Coach Randy would always tell us, even until now, was to keep on practicing for us to be able to keep on improving.

If you were to rate yourselves now, how good are you in basketball?

Justin: Among high school varsities, I think I am an 8.

Jeric: Me too.

Do you play other sports?

Justin/Jeric: No.

Apart from your recent awards at the NCAA, what are your other achievements so far?
Jeric:
I was part of the winning team in the 2012 Palarong Pambansa, wherein I was also named one of the Mythical 5 and the Best Center. Our championship made our team the country's delegates in an Asian tournament last September. Our team became a finalist.
Justin:
I was selected by Jr. NBA Philippines to be part of the 10-member basketball team to represent the Philippines in friendly matches in Hong Kong.
What were the most memorable games you played in high school?
Jeric:
Both the championship games in Palarong Pambansa and in Indonesia this year.
Justin:
When we gave San Beda their only loss this season.
Do you think you are already well known to other schools?
Jeric:
I don't think we are popular or famous. But to the teams of other schools, I guess we are very well known.
Justin:
It's probably because we were being watched and people are taking note of our performances.
But do you have admirers? Have they increased in number?
Justin:
None. (Laughs) Not even in MHSS. (Laughs harder)
Jeric:
We are just normal people in the corridors of the school. (Smiles)
What do you do during your free time?
Justin:
Since our daily routine is really tough, I make sure I get enough rest. I sleep. I usually stay at home and bond with the family. I also review the lessons in school. Sometimes, I catch up with friends.
Jeric:
Pretty much the same as what Justin does.
How hard is it to balance your studies and your sport?
Jeric:
It is really difficult because both of them demand our attention. From morning until afternoon, we focus on our studies, and then we have the practice after class. We are fortunate that MHSS is supportive of our team and adjustments were made to ensure that we are getting the right amount of learning despite a very tight schedule.
How do you get inspired to do your best in everything that you do?
Justin:
It is important that we get the support we need. Our families have always been proud of us. It's what inspires us to do better all the time and be the best that we can be. Of course, we thank God for that talent that He has blessed us with and we pray for guidance. Knowing that we are not alone keeps us going. All of our success and achievements are dedicated to them.