MHSS celebrates unity and good-fellowship in 2012 Friendship Night
Friday, November 9, 2012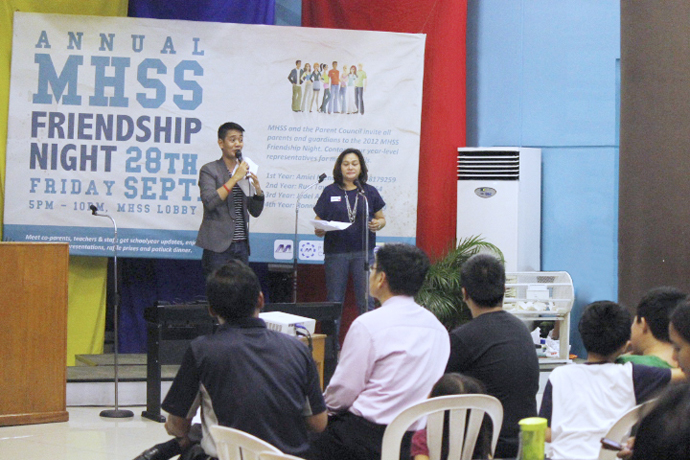 The 2012 Friendship Night is a celebration of unity and good-fellowship among MHSS stakeholders, hosted by MHSS Parent Council secretary Winnie Ragudo and public relations officer Amiel Mendoza. Photo by Whizzy Works.
To foster strong partnerships and establish rapport were the aims of the 2012 Malayan High School of Science (MHSS) Friendship Night held last September 28. Organized by the MHSS Parent Council, the Friendship Night turned out to be a success in forming new bonds among the administration, faculty, students, parents, and other members of the MHSS community.

"We're all expecting the Friendship Night to be successful because even the MHSS Supreme Student Government (SSG) supported this activity and we know that a lot of parents will be attending and enjoying. We want to build a community wherein the whole school will be as one," said Jedel Agron, Parent Council president, before the program started.

The parents, faculty, and students were greeted with fun games and good food. Select freshmen students treated all attendees to an entertaining dance performance featuring music from the 80s and 90s.

For MHSS principal Dr. Efren B. Mateo, the event had been a great opportunity for the stakeholders of the school to form relationships that are ideal in supporting a child's academic development.

"Activities like the Friendship Night really help the school in fostering closer ties with the parents. This is the kind of relationship wherein teachers feel free to discuss with the parents the academic performance of their children. It should inspire cooperation between the two groups to improve students' learning in order for them to develop into good and productive individuals," he said. "I am happy that the parents are proactive and very cooperative."

He further emphasized that the Friendship Night was just a step toward improved partnership between MHSS and the entire community, and that more is yet to be done such as opening all lines of communication and maintaining transparency with its stakeholders. To this, students agree.

"Communication is very essential in all kinds of relationship. It is what keeps partners, groups, and organizations together. It encourages teamwork, which in turn will enable our school to go further," said Melissa Quing, SSG secretary.

Knowing how beneficial the Friendship Night was to MHSS, president Dr. Reynaldo B. Vea encourages the school to come up with more activities that will promote unity among its stakeholders.

"Events such as this promote camaraderie. I wish we have more of this," he concluded. Reports by Kim T. Selorio, Whizzy Works associate editor-in-chief.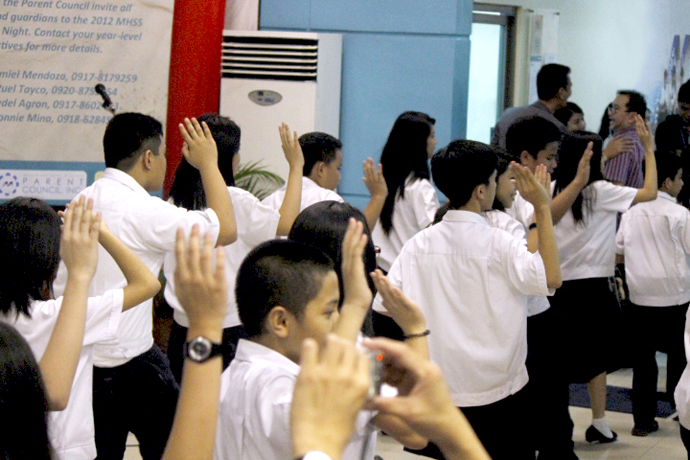 MHSS students treats the entire Malayan community to dance performances of reggae, La Cumbia, and swing to the tunes of 80s and 90s hits.