MHSS conducts earthquake and fire drill
Friday, November 9, 2012
Reports from Whizzy Works writers Bianca Villanueva, Horace Baria, Carl Belmonte, Kim Selorio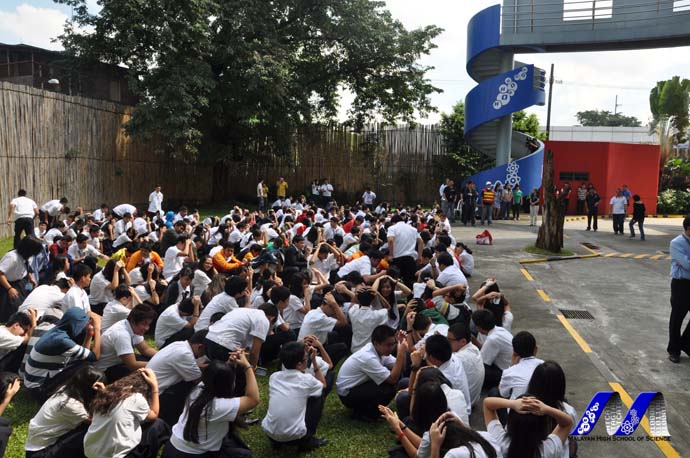 MHSS Fire Drill 2012 – 1 – The students, faculty, and staff of MHSS doing the "duck, hold, and cover" during the earthquake and fire drill last September 7.
No one can predict when an emergency situation such as earthquake or fire will happen, and lack of knowledge and preparedness could put one's life at risk. Malayan High School of Science (MHSS) has been addressing this concern with its annual earthquake and fire drill, which it held last September 7 in coordination with the Bureau of Fire Protection Arroceros.

"We give our students' safety equal importance as their studies. By conducting activities like the earthquake and fire drill, we make our students prepared for any kind of situation at school, equipping them with knowledge that could protect and save not only their own lives but also other people's," said Ferdinand R. Geronimo, MHSS administrative officer and registrar.

Weeks before the actual drill, students were briefed through lectures on how fires start and what happens during earthquake and taught how they could deal with these situations. They learned about the emergency procedures that will allow them to briskly vacate the building with minimal or no casualties as well as the following different color codes and the corresponding protocols when they are in effect:

Code Green – All clear
Code Yellow – Fire is controllable; be ready
Code Orange (Earthquake) – Be ready to evacuate before the aftershock
Code Red – Immediately evacuate the building

The lectures were soon followed by mock drills wherein students applied everything they have learned.

The actual fire drill last September 7 came as a surprise to the entire student population. This was for the MHSS Security and Maintenance Office and the Bureau of Fire Protection Arroceros, led by Inspector Generoso Juico, to gather more valid data on the event to evaluate the effectiveness of the school's earthquake and fire safety plan.

"MHSS has done well in the earthquake and fire drill. Prior to the drill, they were able to educate the students to be knowledgeable and prepared for emergency situations like earthquake and fire," began Insp. Juico. "The school was able to discharge their students from the building, account for lives, and handle fire-fighting equipment properly."

Juico congratulated the school's emergency response teams for following the emergency response plan and for being able to evacuate all the people from the building in less than three minutes. Furthermore, he relayed to the administrators some points that could help the school improve its subsequent drills, and more important, to become efficient and effective in protecting lives in times of tragedy.

"In activities like this, there should always be a room for improvement. We must always improve our alarm systems, as this will notify people of events. People must know where the proper exits are, and these exits must be clear and will allow for safe passage to evacuation areas. Emergency equipment must be readily available at all times. And the most important, people should have the proper knowledge in dealing with this kind of situations."

He continued: "Students must take drills seriously because these will help them get familiarized with procedures in responding to emergency situations. It is important to participate actively and cooperate and coordinate with the people in authority to ensure the safety of all."

To this Geronimo agreed and shared the school's future plan in line with earthquake and fire safety.

"MHSS will further focus on capacity building by giving quality training to the members of the emergency response teams. Furthermore, MHSS shall likewise invest in emergency response equipment. By doing these, MHSS can better implement its Emergency Response Plan," he concluded.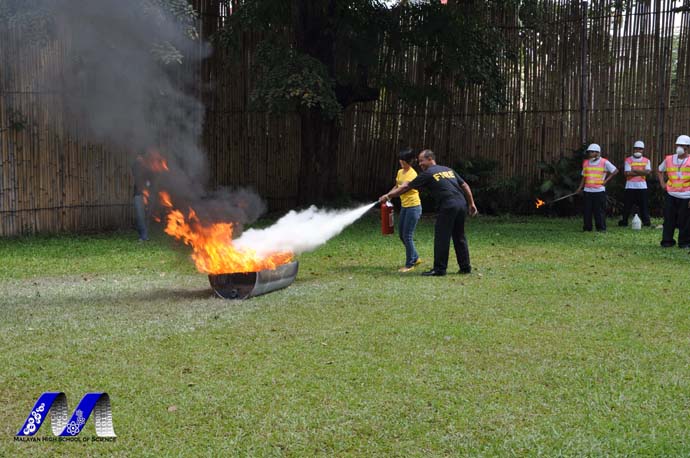 MHSS English teacher Erika Gin Constantino demonstrates how to use a fire extinguisher together with a representative from Bureau of Fire Protection Arroceros.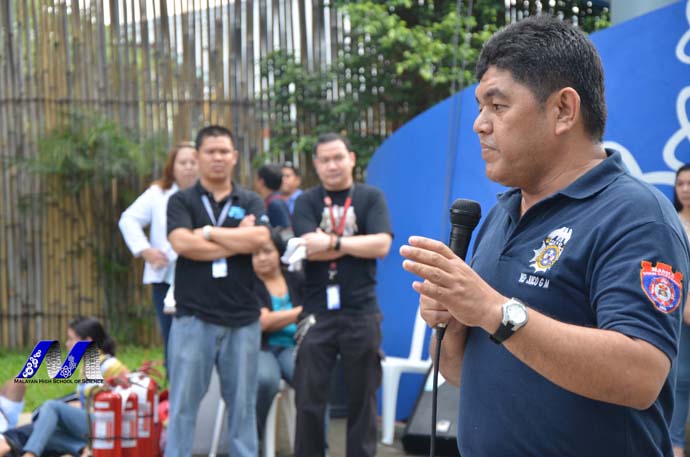 Inspector Generoso Juico of Bureau of Fire Protection Arroceros relays some points that could help MHSS improve its subsequent earthquake and fire drills.