Coronaviruses are a large family of viruses that are known to cause illness ranging from the common cold to more severe disease.
Malayan High School of Science understands your need for professional medical care at a time when mobility is limited and health services are reserved for more critical cases.
With this, we are glad to announce that MHSS students and employees have been enrolled to a 3-month subscription to KonsultaMD.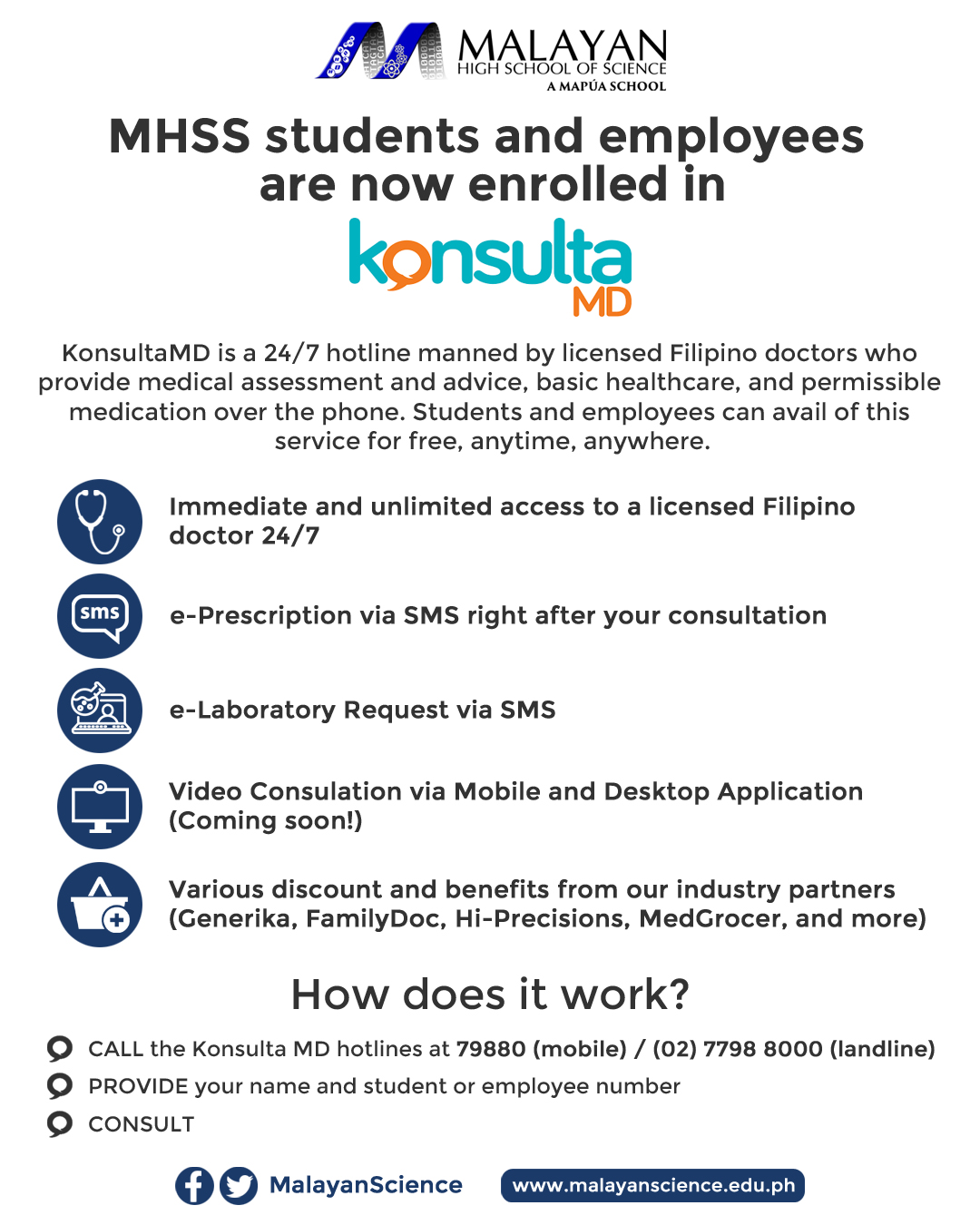 Note of call charges


Calls from a Globe/TM mobile phone nationwide, any landline within Metro Manila, Globe landline nationwide are free.
NDD charges applies for calls from non-Globe landlines outside of Metro Manila.
Cross-network rates apply for non-Globe and TM phones.
What kind of care is being offered?


Primary care - KonsultaMD doctors provide medical assessment and advice, including advice on basic healthcare and permissible medication over the phone.
Medical advice - KonsultaMD doctors provide primary care based health information on how to initially address symptoms as stated by callers based on Philippine Clinical Practice Protocols which may include first aid measures.
General health information - KonsultaMD doctors provide information on any health related inquiry, which includes the interpretation of laboratory and/or diagnostic examinations.
Primary Mental Health Service
Members benefits also include services and discounts from the following partners:


Generika - 10% discount for a minimum purchase of P150
Hi-Precision - one of the country's largest medical laboratory, offers the widest array of services from routine laboratory tests, imaging, multi-specialty doctors' clinics, and can perform laboratory tests that are not readily available in the country. KonsultaMD members enjoy a 5% discount on all laboratory tests.
FamilyDoc – a 3-in-1 facility featuring a Clinic, Diagnostics, and Pharmacy. FamilyDoc clinics always have a doctor on-site ready to attend to patients. The laboratory provides a full range of diagnostics and imaging services. And the pharmacy features quality medicines both branded and generic. KonsultaMD members get FREE membership with FamilyDoc, 10% off on laboratory and imaging services. FamilyDoc members are entitled to an MD consult at a discounted rate of P395.00 with 1 FREE follow up check-up within 7 days.
MedGrocer – an online pharmacy wherein medicines can be ordered and delivered to the customer door to door (www.medgrocer.com). P150 off on initial purchase only; no minimum purchase required.
Metro Dental - may avail of 20% discount on selected dental procedures/services (except tooth fillings) rendered by Resident Dentists that are not included in the packages
Lifeline – a private, membership-based rescue service and the industry leader in emergency quick response (EQR). KonsultaMD members get 50% off on EQR ambulance requests (i.e. P5,000/EQR request vs P10,000++ for non-members) and enjoy Lifeline member rates for homecare services which includes: doctor house-calls, laboratory tests and minor procedures
AIDE – the first home care booking app in the Philippines that allows the user to choose the best, available health professional most suited for their needs. Whether it be medical care, nursing care, physical therapy, diagnostics or even animal care, AIDE offers an easier way to access these services without ever having to leave the comfort of your home or office. KonsultaMD members enjoy a 10% discount on selected AIDE services and FREE delivery of medicines.
We encourage you to make use of this resource that has been extended to you. We continue wish you and your family health and safety amidst the COVID-19 health crisis.